USABlog
Three weeks road trip from Boston to LA with my best friend from Munich
Sunday, 2007-07-01 17:16, Malmö - I'm ready
I'm pretty much ready. My cat Linus is in that nice cat hotel and I got someone to look after my flat & water my plants. The laundry is done and almost everything is packed.
So tomorrow I can sleep long before I load my stuff in the car and drive over to Copenhagen, actually to my work, where I park the car in the garage and take a bus or so to the airport.
The plane leaves at 19:35 and reaches Munich at 21:10, where my brother will pick me up. I guess we'll then go to his place where I hopefully meet my sister-in-law as well and we all have a couple of good beers...
I'm so glad I got that camera I ordered in last minute, a Nikon D70s, delivered last friday. I wanted to get a better digital camera for quite some time because I like taking photos & want to learn more about it, and that trip through USA is of course a unique opportunity to make a lot of nice pictures. So I hope, as I really am a beginner... but this weekend I taught myself a bit and got some good advice from my mother who is some kind of semi-pro. So below there is one of the first shots where I actually set the exposure time & aperture myself... I am so proud! ;-)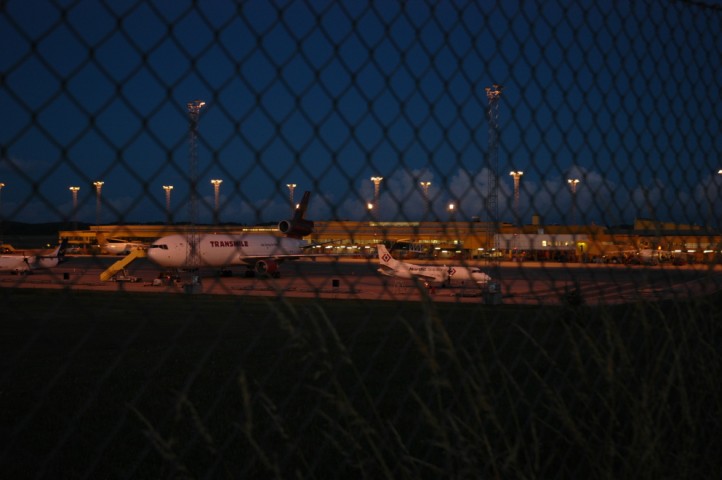 Malmö Airport by night
Monday, 2007-07-02 14:40, Malmö - Leaving for good?
I'm almost off to Copenhagen. Was in a strange mood yesterday, I sometimes felt like I am leaving for good. Maybe because I moved twice last year - twice packing all my stuff together and leaving a flat that I knew I would never see again. Still strange, because I went away quite often since I live here and never felt like that before...
And I missed the cat - so many moments where I thought "Where is he?" until I realized that he was at the hotel already. This place isn't quite the same without you, my little friend!
Anyway... now I am just looking forward to get off that plane in Munich!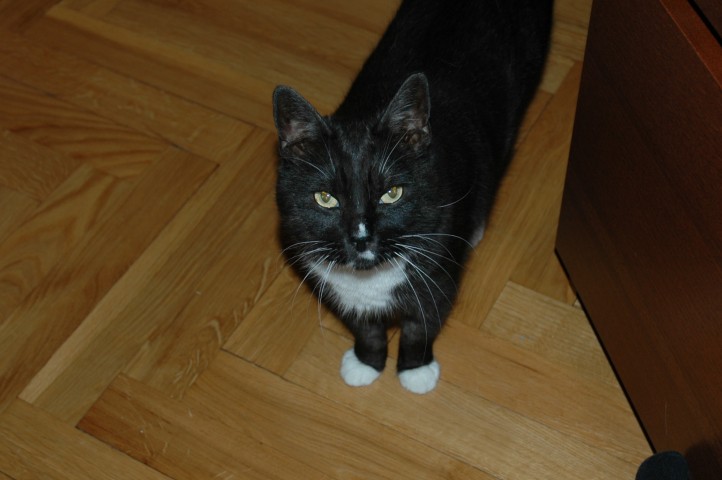 Linus the cat (one of the first snapshots with the new camera)
Wednesday, 2007-07-04 11:41, Munich - Ready to leave again
After two nice days in Munich where I of course also met my mother & sister, I will soon be picked up by my friend and his brother who drives us to Munich Airport. At 15:40 or so we will then hopefully be starting and reaching Boston at 18 something local time. Then we'll pick up the car and go to the hotel, the Doubletree Club Hotel Boston-Bayside. In the evening we'll of course go out and participate in the Independance Day celebrations!
Thursday, 2007-07-05 22:37, Waterbury, Vermont
Our Lufthansa flight to Boston was first delayed due to "no pullback car available", then bad weather was told to be the reason. A young woman from the US complained "Why does this country hate me?" But the flight was actually pretty nice, the crew was very friendly and we even got to Boston on schedule. Immigration went smooth as well and we quickly got our luggage and to the car rental - where it however turned out that the travel agency messed up the booking of our car so we had pay a lot extra to get what we were supposed to get. We even found our way to Mt. Vernon street quickly, but failed to find Nr. 240... which was especially difficult because of many road blocks due to the Independance Day celebrations and the fact that there are plenty of one way roads in that very nice Area, Beacon Hill. After driving in circles a couple of times we finally called the hotel and found out that we picked the wrong Mt. Vernon street...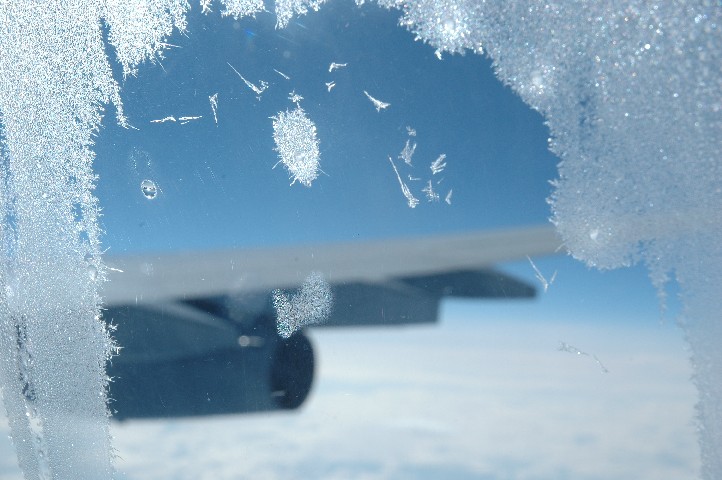 Ice crystals on the airplane window
Saturday, 2007-07-07 23:35, Hamburg, New York
Well, well. I am a bit out of sync as it seems. My last post was from Waterbury in Vermont but I didn't write anything about it...
We eventually made it to the hotel (in Boston). It was dark and raining pretty much all the time and we were both tired & glad that we finally found it. The hotel was located quite a bit from the center, with a bay separating it from the Boston skyline. There was a park nearby from where we could get a distant but nice view on the Independance Day fireworks. I tried to make some pictures but they all became blurry.
The next morning we went to that park again for some sightseeing and taking some pictures. It was very foggy. We met a drunk couple and had a little chat with them.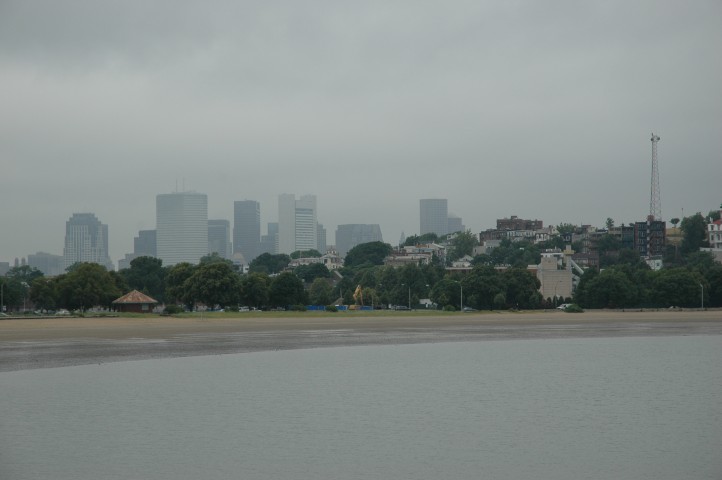 Foggy Boston
Next morning we went into the city again, to Cambridge. We drove around the MIT and Harvard, and then left Boston to drive up north to Portsmouth, where we parked the car in a parking house in the center of this nice little town on the east coast. In a newspaper shop we met a woman who moved there from Switzerland many years ago, in German she recommended us a seafood restaurant where Michi had his first lobster while I went for plain fish & chips...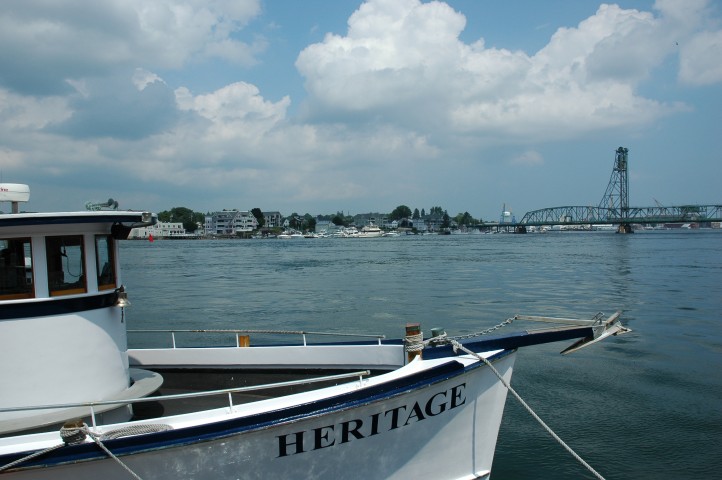 View from the seafood restaurant in Portsmouth
After our visit to Portsmouth we continued to Montréal. At some godforsaken gas station we filled the tank of our dark red Chevrolet Impala and bought some beer, soft drinks & candy. The landscape soon became really amazing, the lonely highway went up and down along green hills and mountains. At dusk we went off the highway at some exit that had a sign which said "Next exit 18 miles" and another one showing the way to a Best Western hotel that was located just around the corner up some steep hill. They had a room available for a reasonable price, so we checked in. Later we drove down to where we expected a lake, but found the nice little town Waterbury instead. It looked pretty much like I always imagined how a small town in the US looks like: One major road with houses, gas stations and shops to the left and the right, a railway track besides and a train station somewhere in the middle. There was a small event with live music in a little park besides the train station. We enjoyed the good mood & atmosphere for a while and wandered around a bit, before we went to one of the gas stations to buy some beer, soft drinks & candy...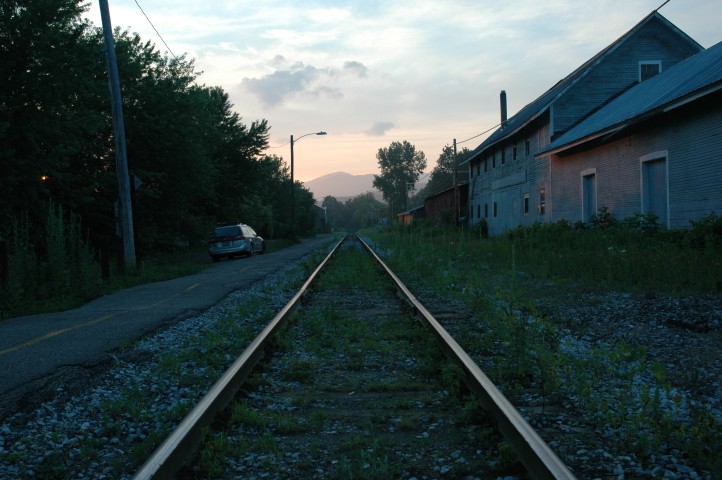 Railway track in Waterbury...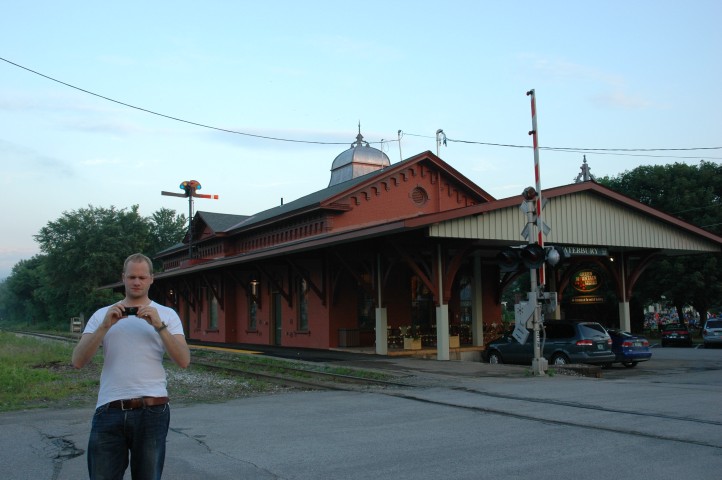 ...and the train station
The next morning we had breakfast at the hotel and then continued our way to Montréal. Already before the Canadian border the landscape became all flat again, so flat that we almost felt like we were in the Netherlands. After the border it also felt like we were in France: Everything we saw was in French and we stopped the Impala to switch the meters to metric system.
When we approached Montréal we got a pretty impressive picture: The sea, then the skyline and green mountains behind. We followed the signs to downtown, parked the car in a garage and went to a restaurant in the same building. We got a table outside besides the streets and ordered some sandwiches. I tried it in French but the waitress lost me immediately so I had to revert to English. How disappointing...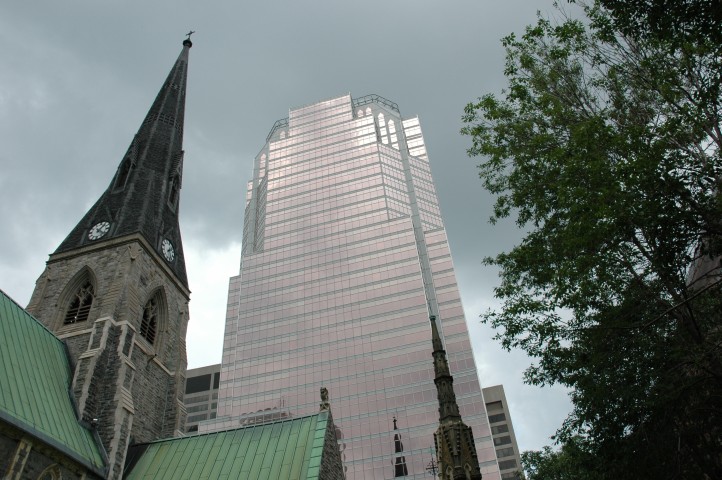 Old meets New here in Montréal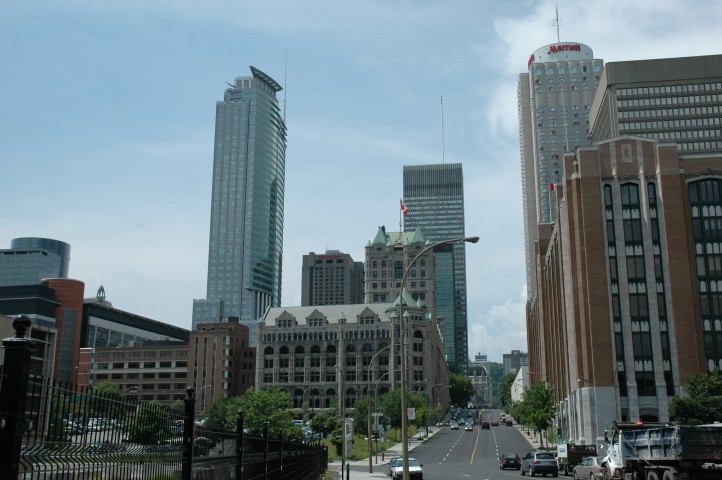 Also Montréal
After our lunch we walked around in the area for a while, got the car and pondered how to get to Toronto. We got going and just after I proudly mentioned that we found the way without driving wrong once for all, we missed an exit.
So we were back on the highway again. Went off an exit and refilled the Impala with gas. A few miles later we went off another exit and had our first burger, at Wendy's. Quite OK, better than Mc Donald's we agreed. In the parking lot, while Michi had a cigarette, a seagull shit on my sock and shoe. I was pleased and Michi had a good laugh. I changed my socks and cleaned my shoe before we continued our way.
We left the highway around 19:00 for the town Port Hope which is located at Lake Ontario, one of the Great Lakes. When we got to the lake we were very impressed by its size, it looked more like the sea than "just some lake"...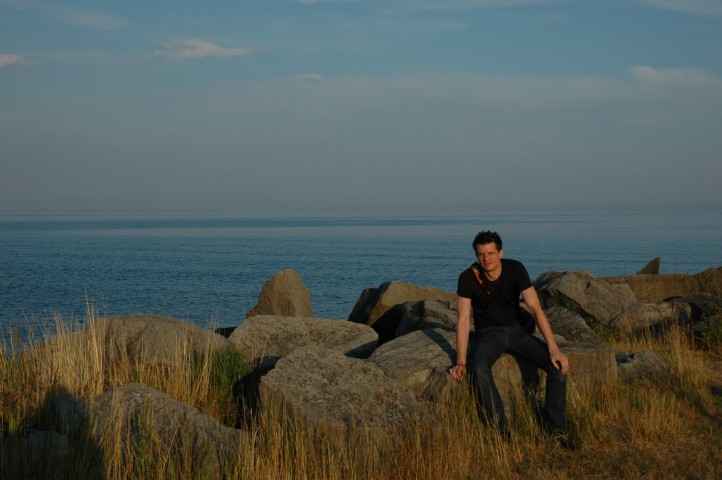 Me at Lake Ontario at Port Hope
We continued along the lake on a small road for a while, looking for some lodging. Such a nice countryside, the lake, the fields, the wooden houses. There was no hotel or motel and since it was getting late, we went back to the highway. We went off the second exit and checked into a Howard Johnson motel besides the motorway. My first "drive-up" ever! We went to the gas station across the street and got some soft drinks & candy, and because they didn't have any beer I got a Dr. Pepper. Well... it somewhat reminded me of Almdudler but I was glad I had a beer left, even though it was warm.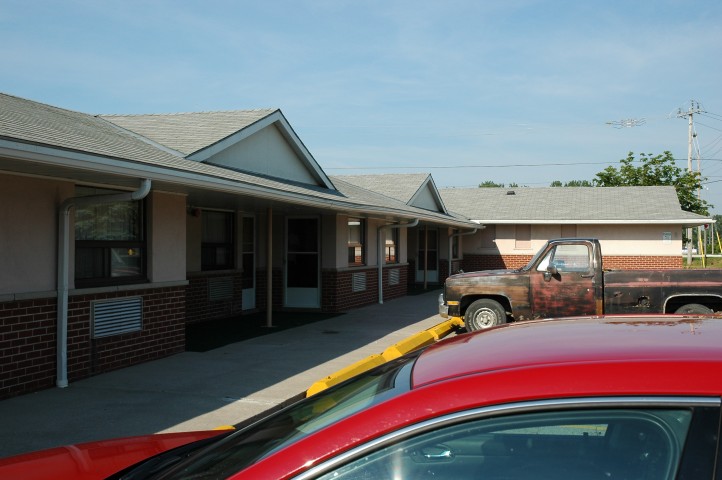 The motel in Bowmanville, Ontario
Ah well, it's 01:41 and I feel I got to wrap this up...
Next morning, we continued to Toronto and got there around noon. There was some event going on and we parked to car at some huge parking lot to check it out. It turned out to be some Formula 1 kind of race, I think it was called "The Grand Prix of Toronto". We decided to skip the race, walked up to the shore and had a look at the skyline, and then drove downtown.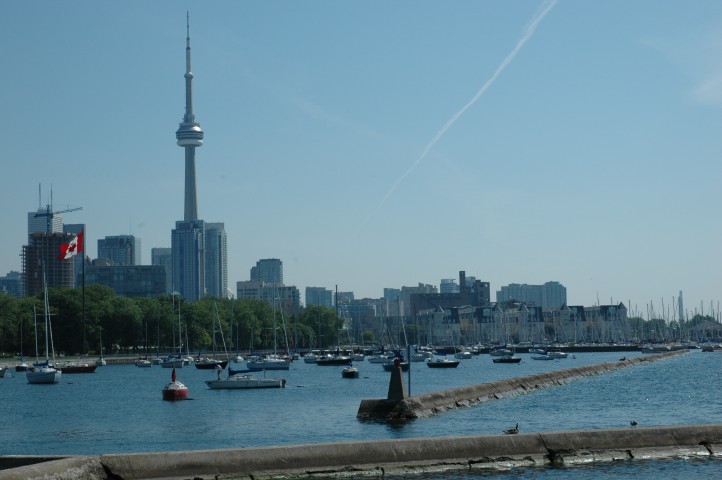 Toronto with its famous tower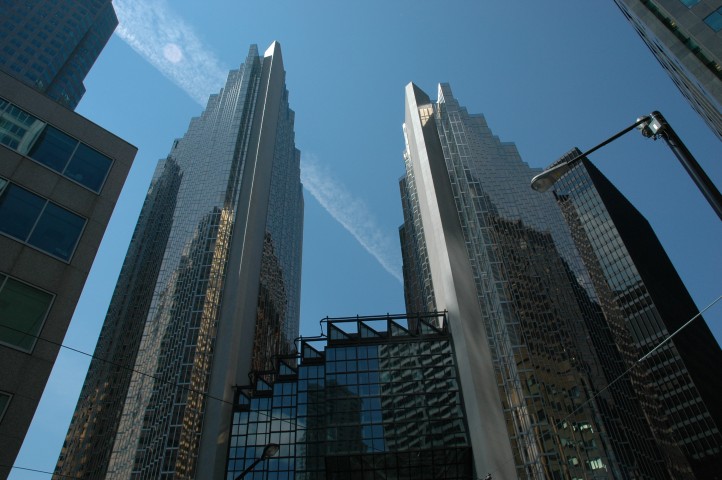 Downtown Toronto
Monday, 2007-07-09 01:07, Gaylord, Michigan
Unfortunately, there was not much life in downtown Toronto. It is really only business there, banks and insurances and so on, and it was Saturday. We walked around quite a bit looking for a place to eat, but couldn't find anything. This city is so huge, it seems impossible to get anywhere on foot. So we decided to leave and continue to the Niagara Falls. On the way we took a "Food Exit" for another Wendy's cheeseburger...
The way to the Niagara Falls wasn't too exciting. Through quite heavy traffic we were passing by some boring towns, and the landscape wasn't any special at all. When we got there we parked the car in the garage of some huge Hilton Hotel and walked down to where all the other tourists were. There was a Planet Hollywood restaurant on the way which looked so plastic and phony, I couldn't believe they were allowed to build it there. Somehow the whole place looked kinda plastic.
But the the closer we got to the falls, the more impressive they were. The place was full of tourists from all over the world of course, and everyone seemed to have at least one camera. Just like us.

Michi made this cool panorama image with his SE K800i phone. AWESOME!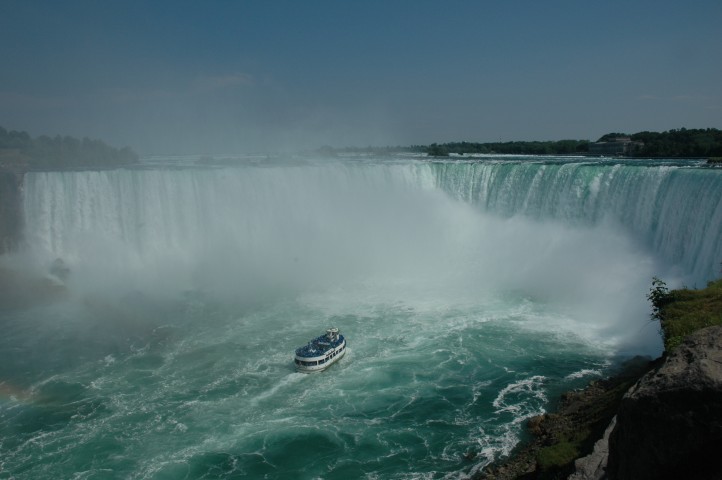 The "Canadian" Niagara Falls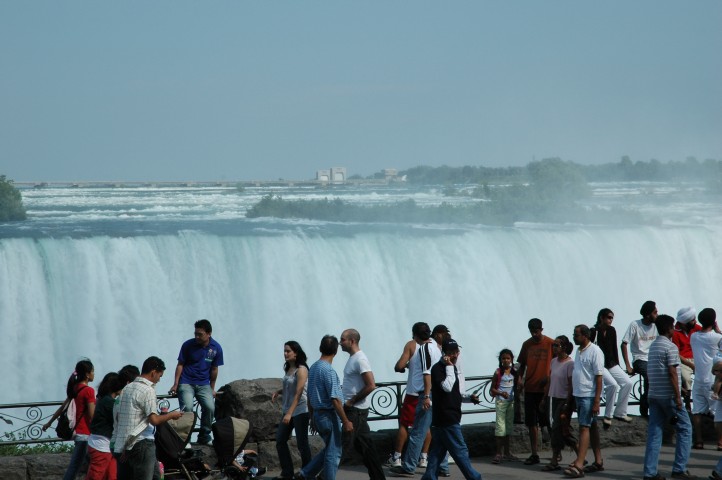 Nobody on this picture seems to care about The Falls...
Before we left the Niagara Falls we went to a food/souvenir shop and got some soft drinks and candy.
We drove for some hours and eventually took an exit to Hamburg to find some hotel. The first one we checked out was a Comfort Inn where they wanted $180 for a twin room which we thought was well overpriced. The next one was a motel which didn't look too inviting and was sold out anyway. The next hotel I asked for a room was a Holiday Inn, $120. The cute girl behind the front desk smiled at me and asked where I came from. "Uhm, originally from Germany" I replied, "But I live in Sweden". "Cool", she said and smiled again. When she asked me what I was doing in the US, I babbled something about the Niagara Falls and "all the way down to LA". "That's a cool place", she said with another smile and I asked her if she has been there before. "No, but I plan to go there", she replied. I continued filling out the form and she asked me about my age before she gave me the keys to the room. "34", I answered and an older man who was also standing at the front desk laughed and said something like "That's not old!" - I tried to reward his joke and handed the girl the form. We both smiled at each other and said goodbye.
I had to think about the girl the rest of the day and on the next morning I wrote my email address on a piece of paper and planned to leave it at the front desk because I wasn't expecting her to be there in the morning as well. When we checked out, there was a young guy behind the front desk. Somehow I didn't feel like asking him to pass on my email address to the girl and quickly came up with lame excuses like he might be her boyfriend or so. What? It's a small town, but...
By the time I thought how stupid I am we had already checked out and a few moments later I started the V6 engine of our red Impala. We went to the supermarket called "Dollar General" where we have already been the evening before. We bought some more soft drinks, water and candy and then went to the Burger King nearby because I wanted some coffee. We had a "Crossain' Wich" as well which we were not exactly excited about, but one more time we were impressed by the friendly service like we received it almost everywhere in the US and Canada and the fact that you could refill your Coke or coffee as many times as you wanted.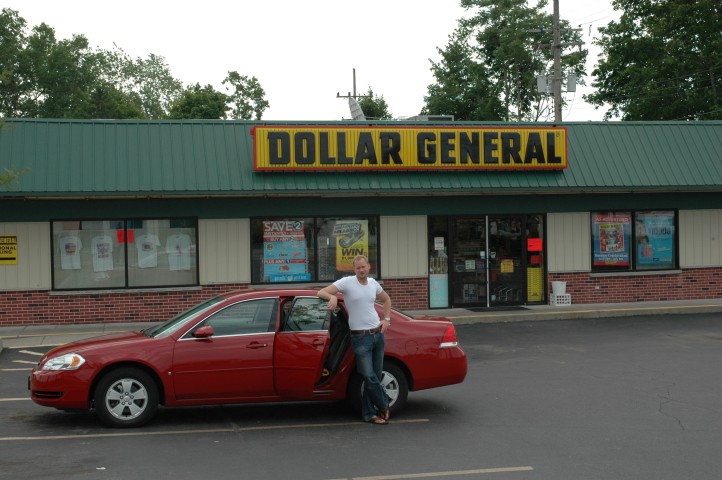 The "Dollar General" in Hamburg
We decided to continue along Lake Erie on a smaller road, the "5". We took a break at two beaches on the way.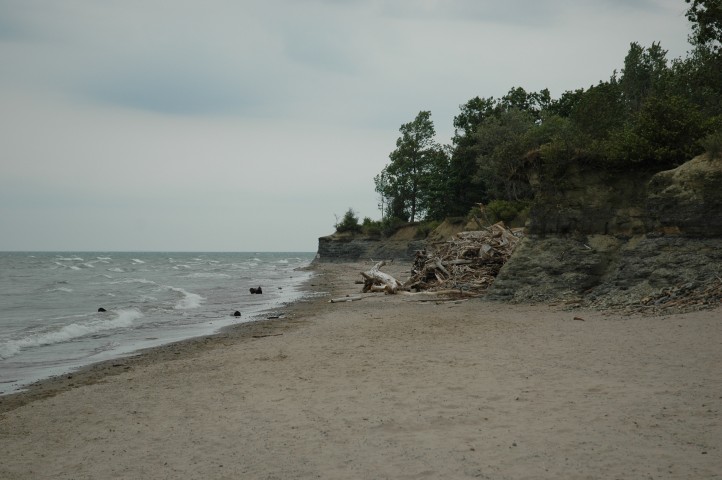 The first beach, where Michi photographed a dead fish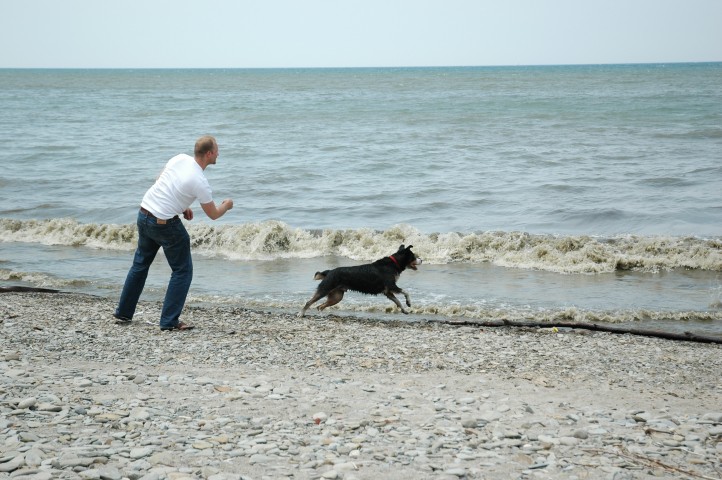 The second beach, where Michi flipped some stones, which the dog thought was very exciting
The highway led us to Cleveland, where we tried to find a good restaurant. However, we didn't even manage to find its downtown but some quite ugly industrial area, so we decided to go back to the motorway and boomed straight for the next "Food Exit". There was a place called "Outback Steakhouse". The parking was pretty full so we thought it might be a good place. We were right - we got nice service and some really good fresh burgers including "All you can drink" for just $22.
I should mention that by this time, the thermometer of our Impala showed well above 90 degrees Farenheit. The air was thick and warm, but dry. Michi was concerned about the temperatures that we would have to face in Colorado and Nevada: 100 degrees and more they reported on TV the night before, and the forest fires in Utah...
As usual at around eight o'clock we started looking out for a hotel. This time it would become a "Days Inn", which was by far the cheapest until now, just $80, and turned out to be just as good as the Holiday Inn and almost as fine as the Best Western, in a town called Milan. After we checked in, we took the car again to see if we could find the lake and check out the sunset. Michi has a good feeling for finding the way to The Lakes, and after a 15 minute ride we parked the car at some really nice shore. Some young people were fishing there and Michi started a conversation with a man who I thought seemed to be their father. I joined them and he introduced himself as Samuel. He was very friendly and we shook hands. He said something about my name but I didn't understand a word so I just nodded and smiled.
It was a very beautiful scenery and I thought these people really belonged to this place.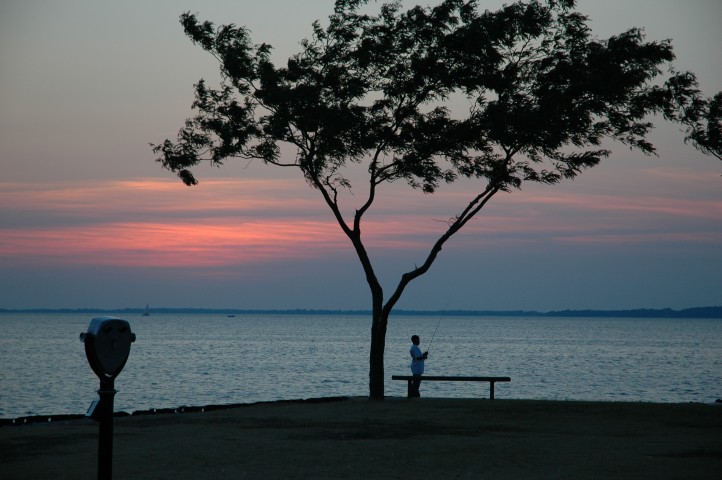 Lakeshore in Sandusky at Lake Erie
Thursday, 2007-07-12 22:58, Denver, Colorado
Next morning we went back on the Interstate 80 and drove to Detroit. We just went through, but we saw a sign to the 8 Mile. So much for Detroit. We continued up north to Bay City and went to some State Park to check out Lake Huron. There was a thunderstorm nearby which created a great atmosphere in the area. We stayed there for a while and had something to eat before we hit the road again.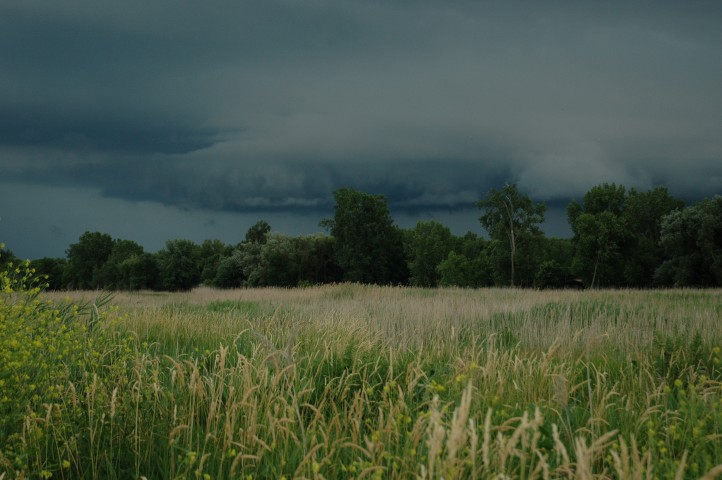 Thunderstorm near Bay City/Lake Huron, Michigan
Somewhere between 8 and 9 we went off the motorway and checked in to another Best Western hotel in Gaylord (previous post). The next day we headed north again and a bit before lunchtime we crossed Mackinaw Bridge. Lake Huron meets Lake Michigan here. A bit later, we stopped at some beach at Lake Michigan, where I was amazed how similar it looks like the beaches in southwest Sweden, considering that it is a lake, not the sea: Clear water, fine sand and small dunes, partially overgrown with tall grass.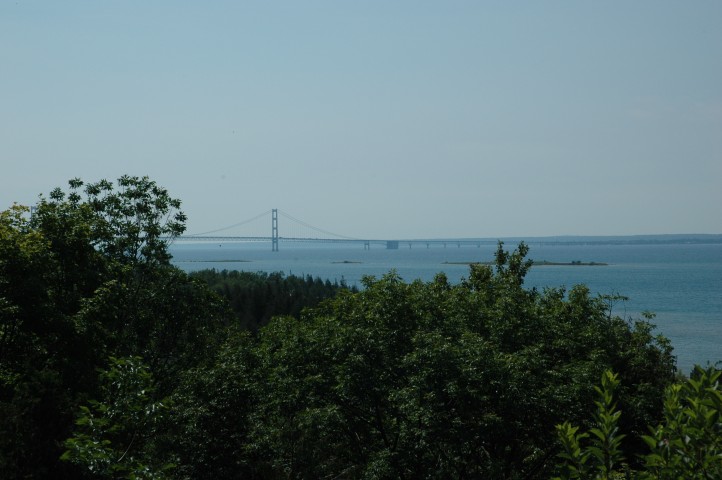 Lake Michigan and Mackinaw Bridge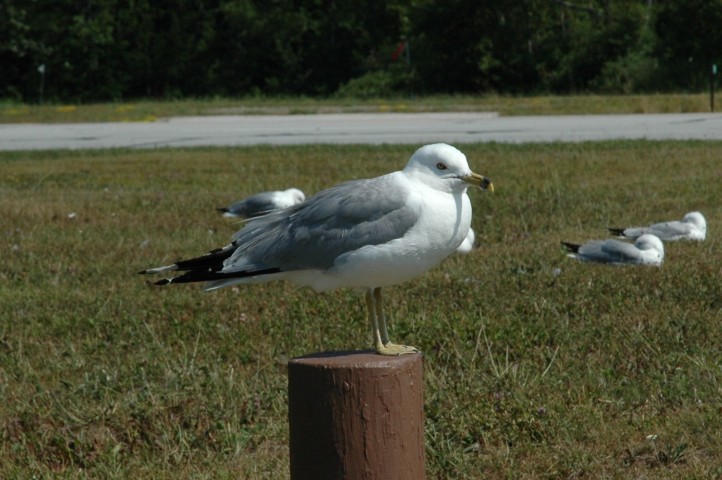 A seagull posing for me
After our little break we drove even further north up to Grand Marais, a small town at Lake Superior. We stopped again at the beach and had a good burger in a nice rustic place called Sportsmans Restaurant before we drove southeast towards Green Bay and Milwaukee, both located at the east coast of Lake Michigan.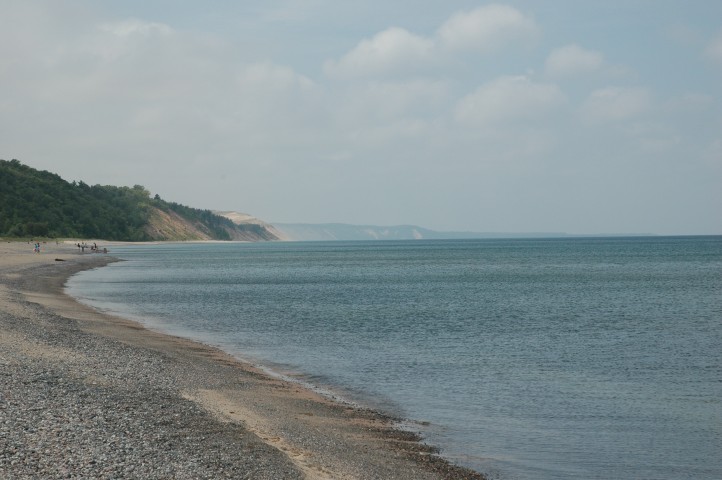 Lake Superior at Grand Marais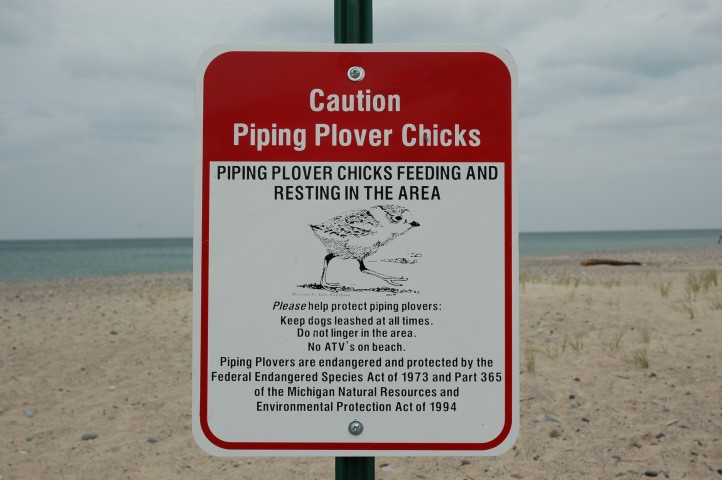 A sign on the beach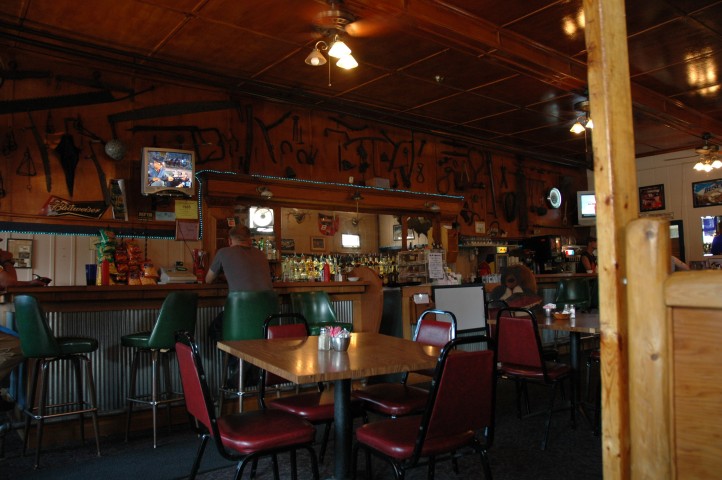 The Sportsmans Restaurant
We stayed over night near Milwaukee and drove down to Chicago the next day. We were impressed by the the size of the town and its amazing skyline, while we were driving slowly through heavy traffic for what felt like hours, trying to find our Holiday Inn hotel which I think was located just at the edge of Downtown. We got lost, but with the help of a map showing an incredible maze of small right-angled streets we managed to find the the hotel. After we checked in and got some rest, we returned the Impala to the car rental agency which was not even two miles away up Downtown. It was quite fun to drive around between the skyscrapers, among them the Sears Tower, which, when including the two giant antennas on its roof, is the tallest building in the world.
Since it was actually the guy from Alamo Boston who messed up our reservation - not the travel agency - we tried to sort it out in the Chicago office. But we didn't get much more help than that we were given a customer service phone number which we had to call ourselves - and still the issue couldn't be solved.
We didn't feel like spending more time at the goddamn car rental agency and walked a few blocks to the Sears Tower, where we went up to the visitor platform from where we got a great view over greater Chicago. From up there, where it is possible to see 50 miles on a clear day, the size of Lake Michigan was again very impressive - impossible to see where it might end.
After visiting the Sears Tower we had something to eat and wandered a bit around in the area, and then returned to the Holiday Inn. Later that evening we took a cab up Downtown to Andys Jazz Club. I read on the internet that it is a very popular live Jazz place in Chicago - but nobody at the Hotel had heard about it. It is a nice place, we had a couple of beers while we saw two bands playing. We left Andys already before 10 because we had to get up very early on the next day to catch our flight to Denver. It was great to see a bit of Chicago at night.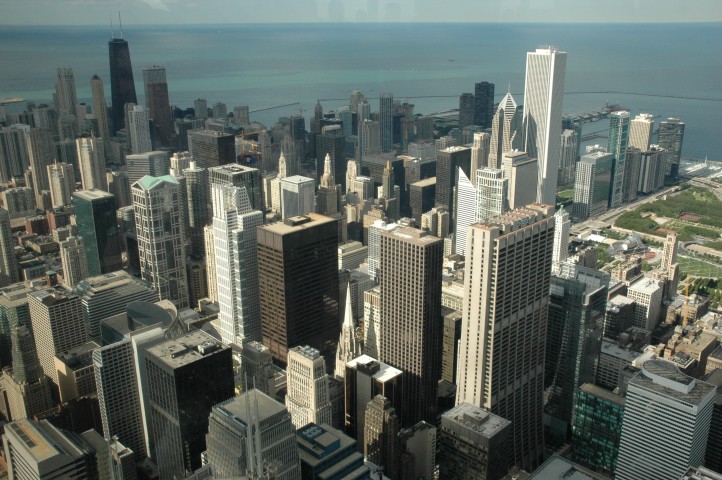 View from the Sears Tower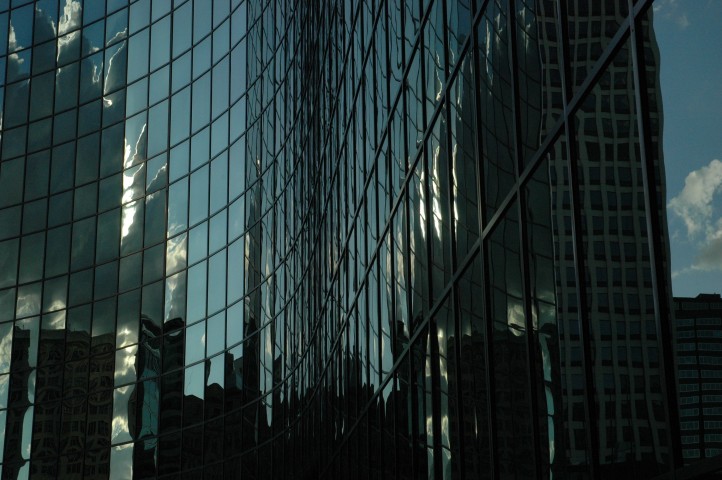 A facade in Downtown Chicago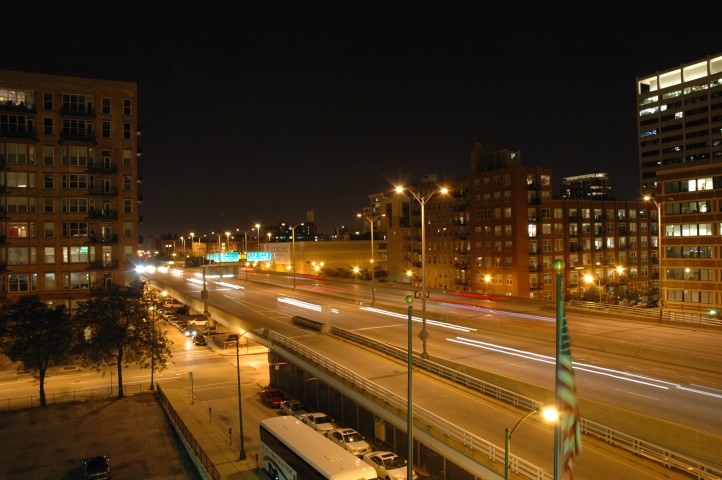 View from the Hotel at night
The flight to Denver went fine, but we had trouble again at the car rental agency. First we had to queue for like half an hour, and when we finally sat in our "Full Size 4WD", a huge Jeep, a warning lamp on the dashboard suggested that there was something wrong with the gearbox, so we had to return the car and pick another one. This time we went for a smaller Toyota RAV4, as we agreed it might be reliable car. Which was important for us, since we had plans to drive a considerable part of sixteenhundred miles through the Rockies and the Desert.
We didn't do anything exciting in Denver today (yes, I finally managed to catch up!), we did our laundry here in the hotel (another Holiday Inn) and had something to eat in the restaurant.
Tomorrow we we'll be leaving for Aspen and Woody Creek.
Saturday, 2007-07-14 23:03, Moab, Utah
On the way to Aspen, we passed by the Red Rocks Amphitheatre which is just a couple of miles away from Denver. Just some days later, Incubus and Bob Dylan would play there. But unfortunately, we had to go on with our trip!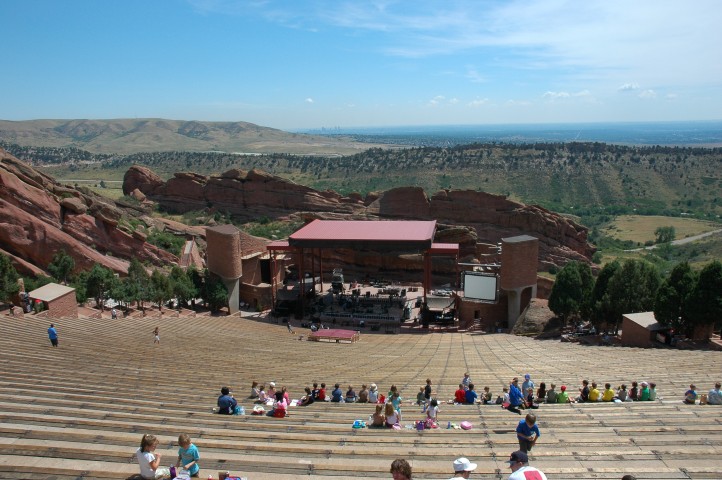 Red Rocks Amphitheatre near Denver, Colorado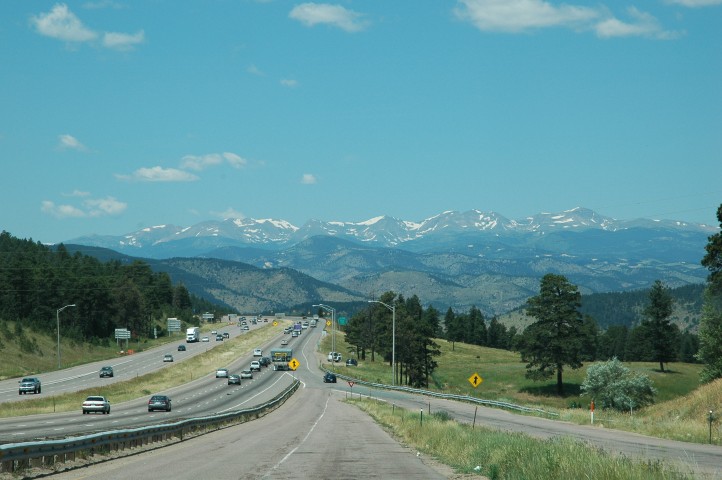 On the way to the Rockies!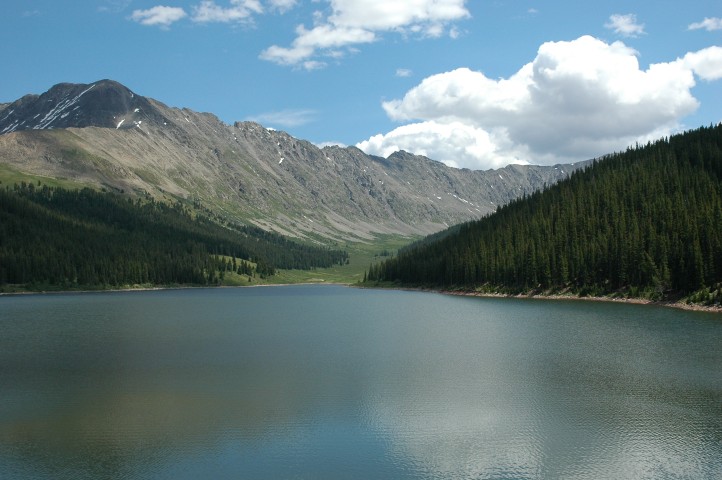 A lake in the Rocky Mountains on the way to Aspen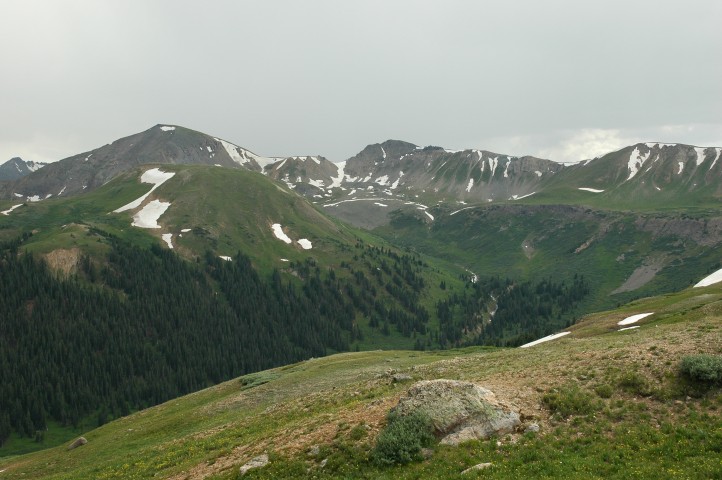 Taken from the Independence Pass - Elevation 12.095 feet/3.687 meters
When we reached Aspen, we first checked in a hotel called Mountain House Lodge and then took a walk around Aspen. In the evening, we went to Woody Creek and had a nice dinner in the Woody Creek Tavern. Being a great fan of author Hunter S. Thompson, who lived in Woody Creek and often mentioned it in many of his books, I just had to go to there!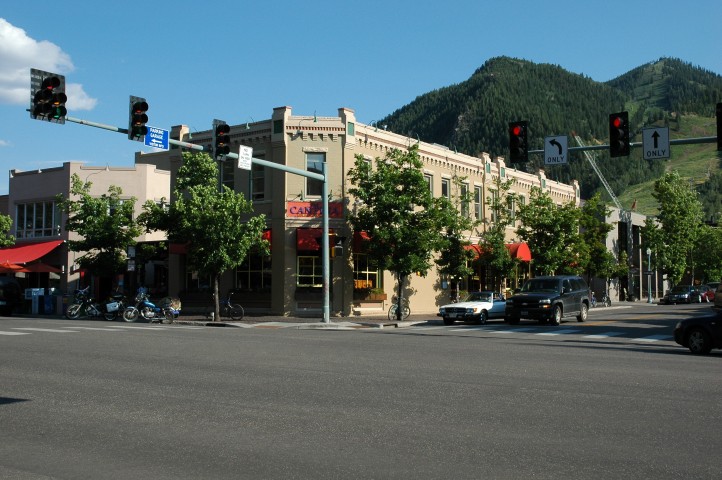 Aspen, Colorado
On the next morning we first had a look at the Maroon Bells and then went back to Woody Creek, because I wanted to buy some Gonzo items and one or the other book, but unfortunately the Community Center was closed for construction.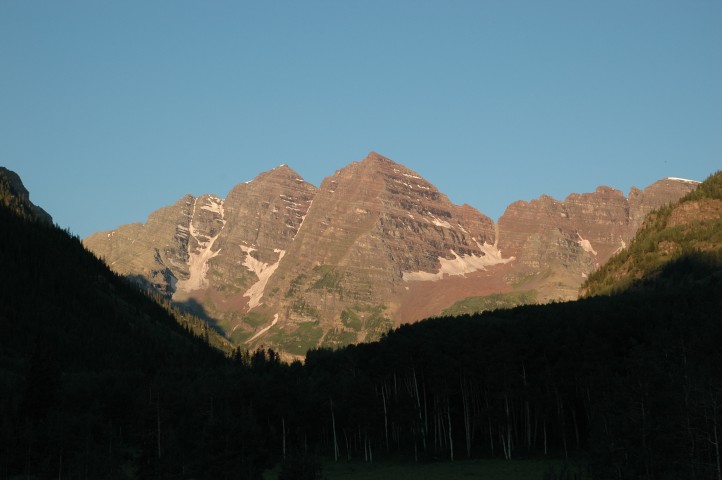 The Maroon Bells near Aspen in the morning sun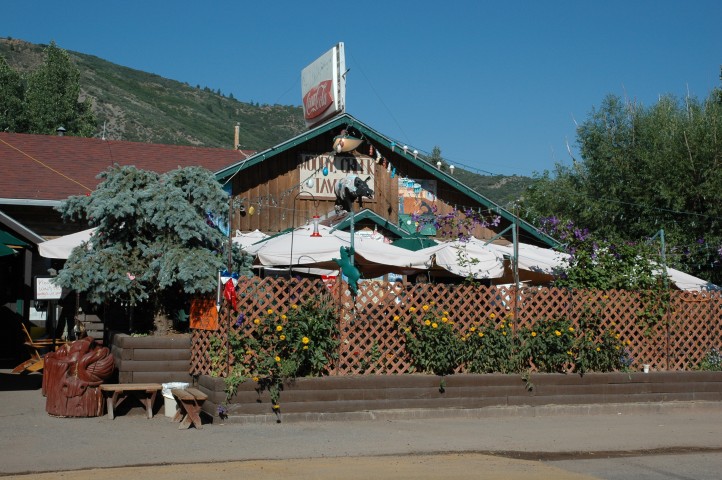 The Woody Creek Tavern, where we had some very nice Mexican food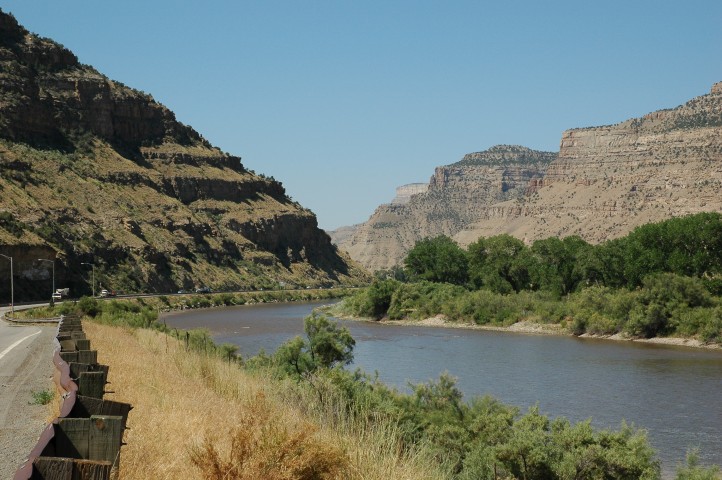 On the way to Moab, Utah/Arches National Park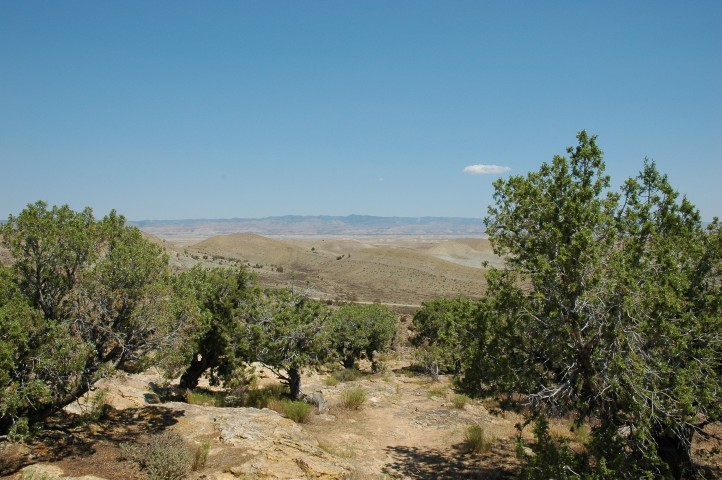 Viewpoint at Interstate 70 in Utah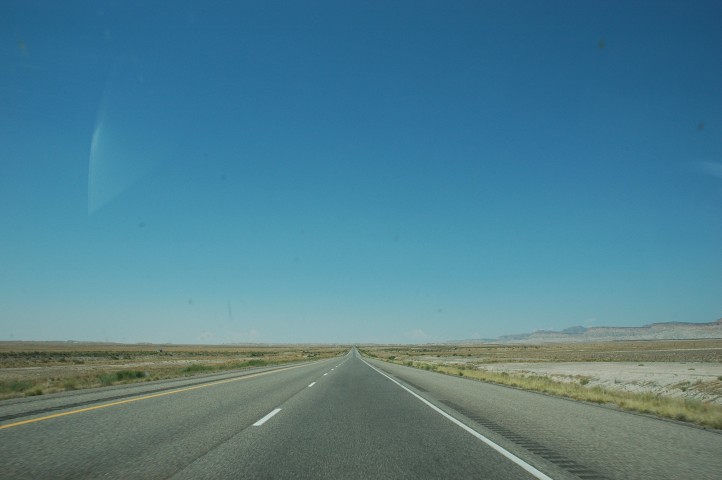 Interstate 70
In the early afternoon, we reached Arches National Park. It was very impressive, and it was also pretty hot. An american woman told me: "It's a mighty hot day". We wanted to leave the park on some "unimproved road" that was supposed to require a 4WD car. We made it 8 miles but at one point the road became very steep and lead over huge rocks with big and deep holes between them. I tried a couple of times to get up, but even though our Toyota RAV4 seems to have quite good offroad capabilities, it seemed impossible. So we had to give up and faced a another problem: We didn't have much gas left. How stupid... luckily we managed to get to a gas station in Moab, a small city nearby, without problems.
In Moab we checked in another Best Western hotel, and then had a good pizza in an Italian restaurant nearby.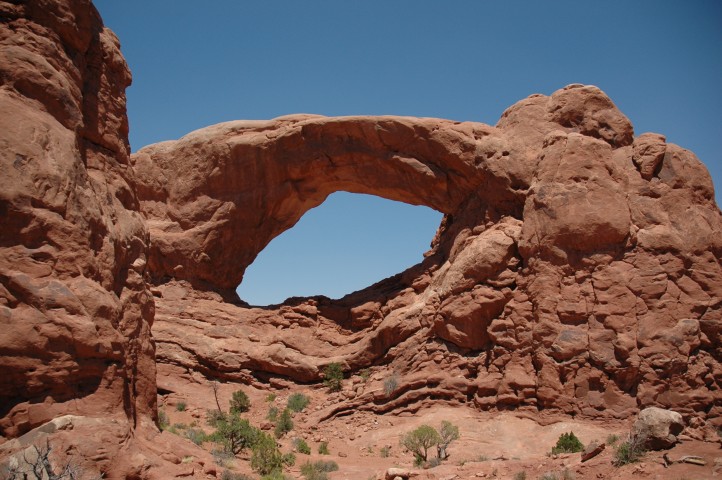 The South Window in Arches National Park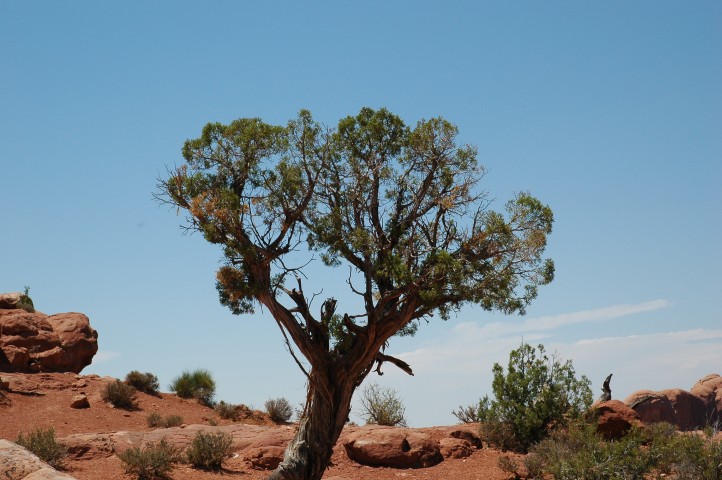 A tree...
Monday, 2007-08-06 00:44, Malmö
Already at home! I just didn't manage to update the blog during the trip... but I want to complete it, so I have to do it now!
The next day, we left Moab early and went to Arches National Park one more time. We wanted to see the Delicate Arch, and since that requires a 1,5 km walk (one way), we wanted to avoid the most brutal heat. And still it was quite exhausting...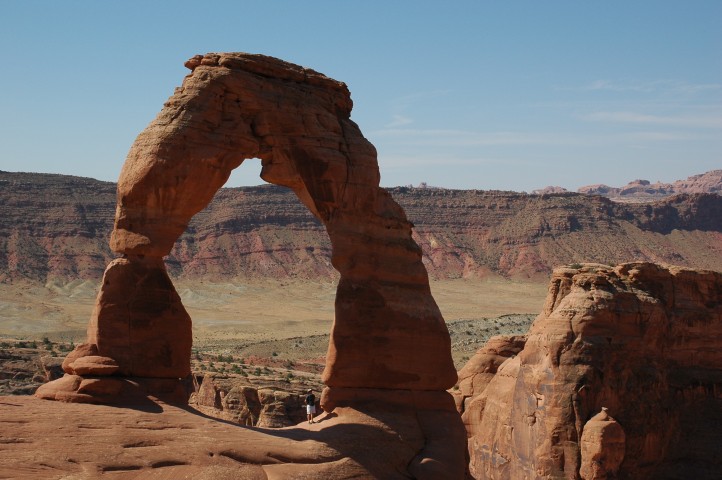 Delicate Arch
After our second visit to Arches, we went on to see Monument Valley. On our way we passed by the Mexican Hat, and filled gas in the village nearby with the same name.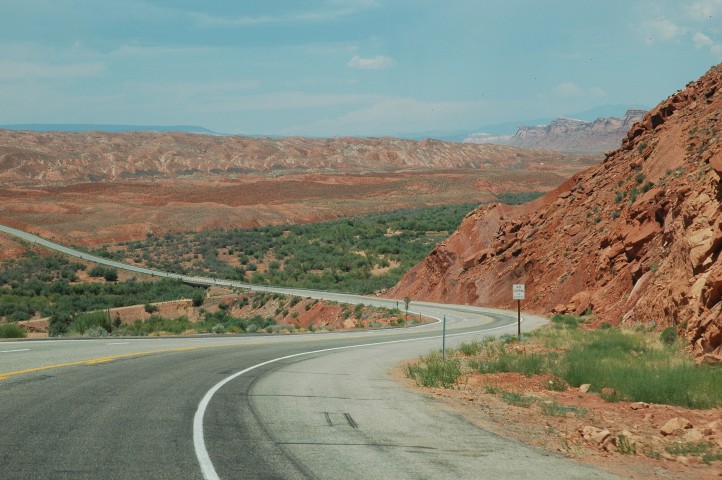 Somewhere between Moab and Mexican Hat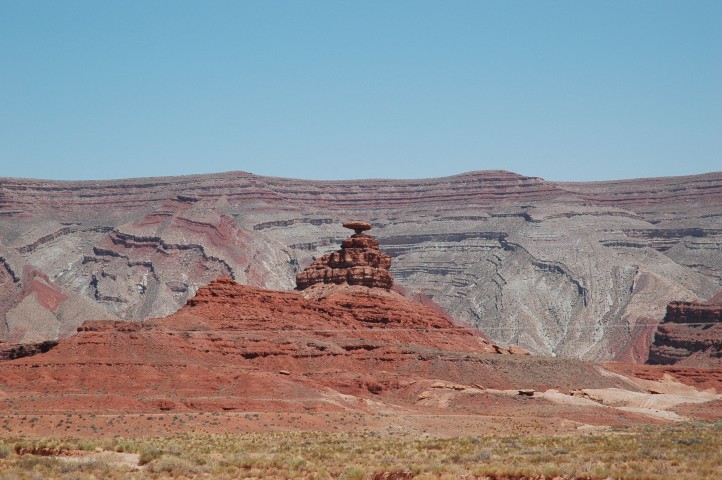 The Mexican Hat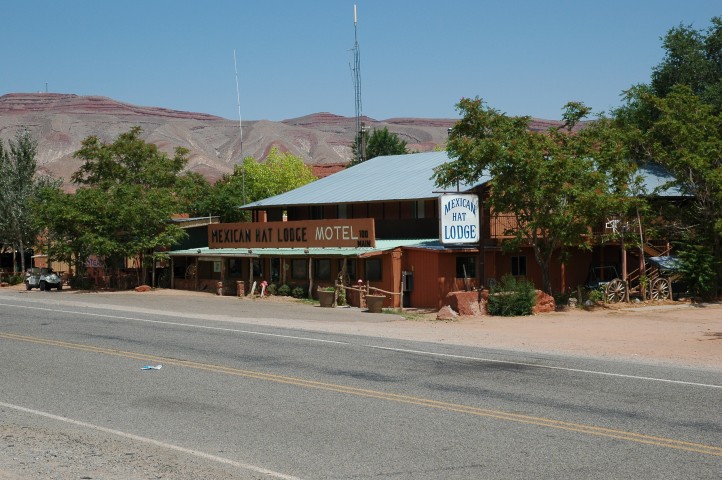 The village Mexican Hat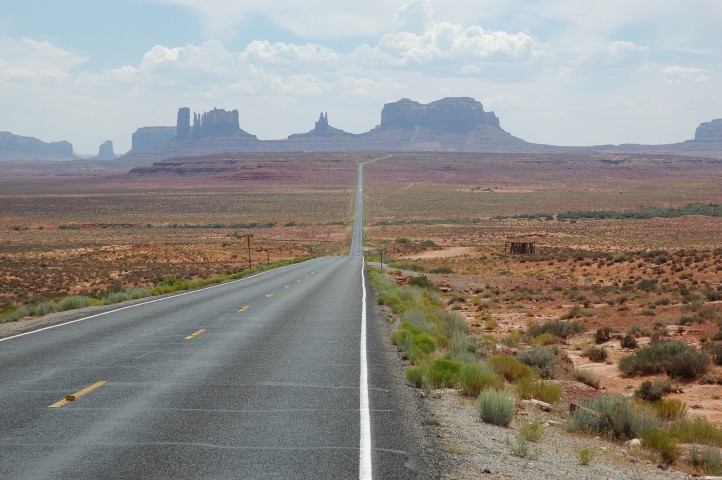 Approaching Monument Valley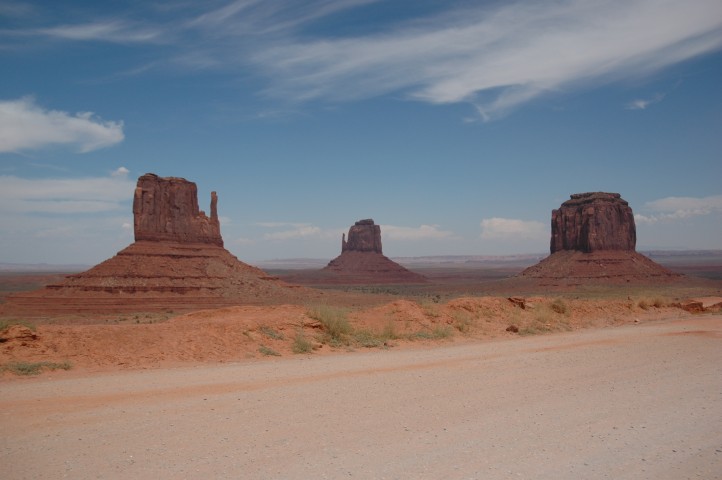 Each of these have a name...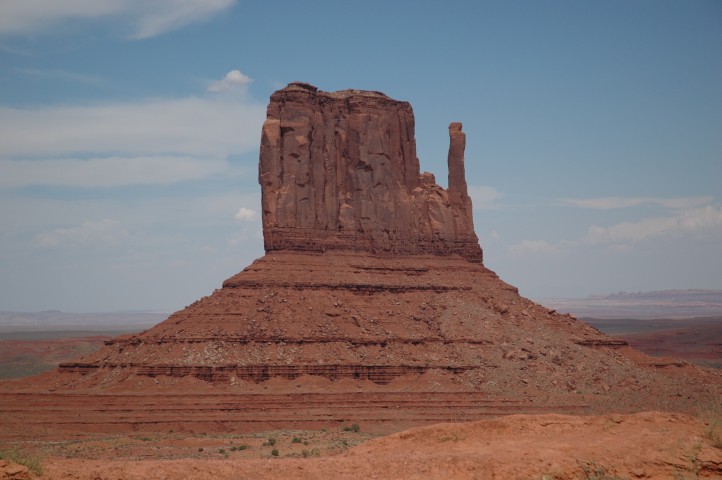 ... this one is called West Mitten Butte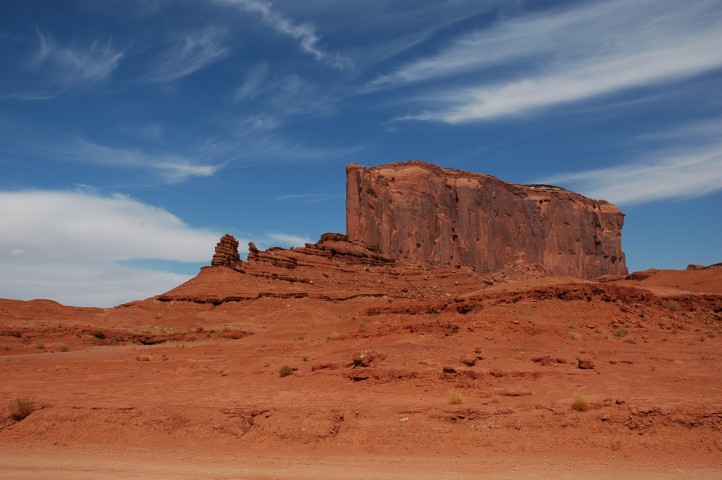 Nice colors...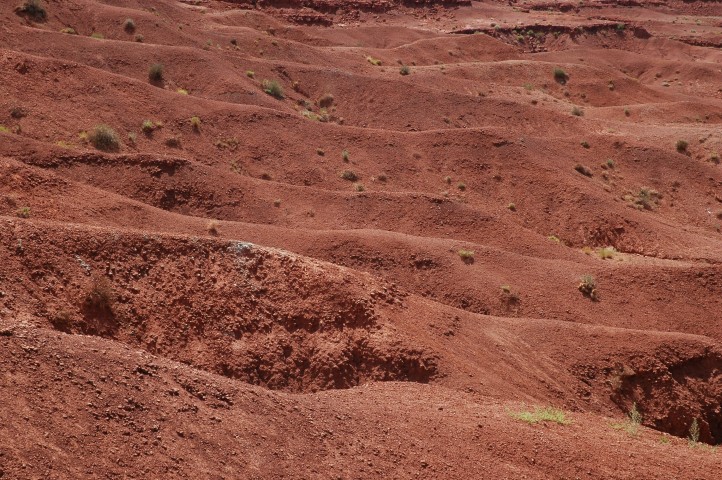 Some sort of dunes
And after Monument Valley, we boomed straight for Grand Canyon, South Rim. It was dusk when we got there, so there was a great atmosphere, including a sunset.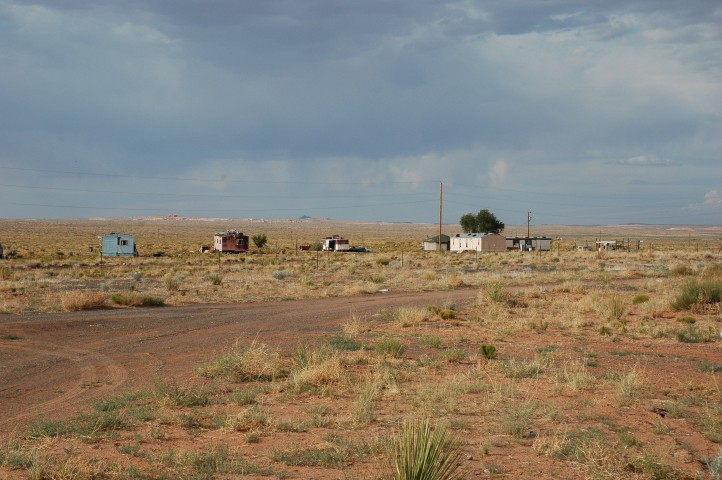 A "village" on the way to Grand Canyon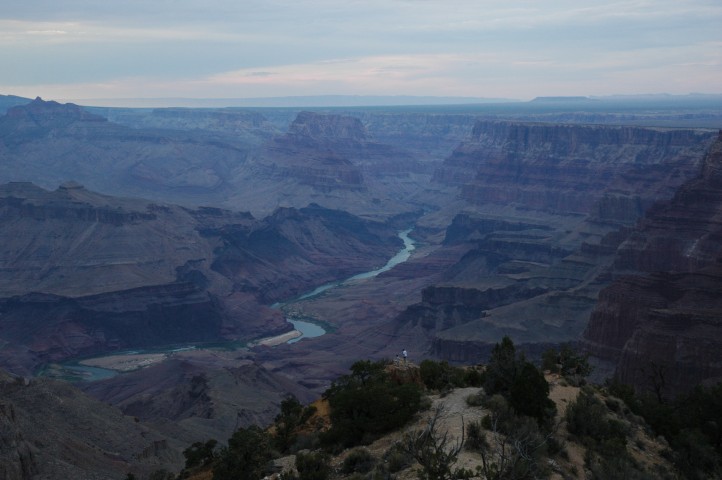 Grand Canyon at dusk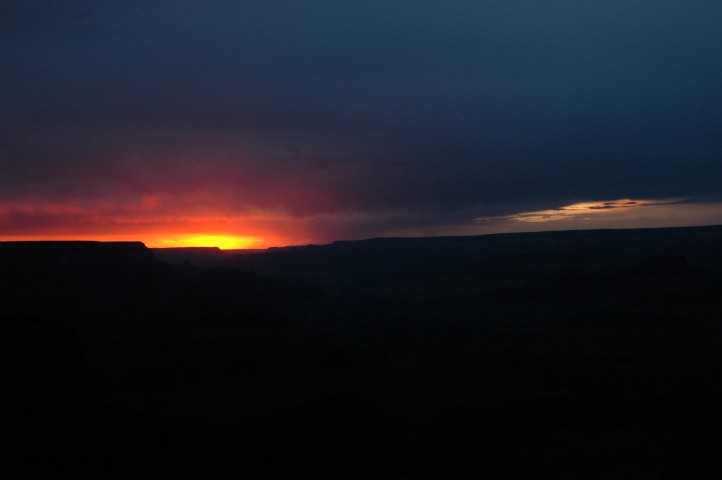 Sunset @Grand Canyon
The next day we checked out Grand Canyon at daylight, and then continued to Bryce Canyon. On the way we stopped at Marble Canyon and Kaibab National Forest. We decided to get a motel in Kanab, a nice little town with charm, as I thought.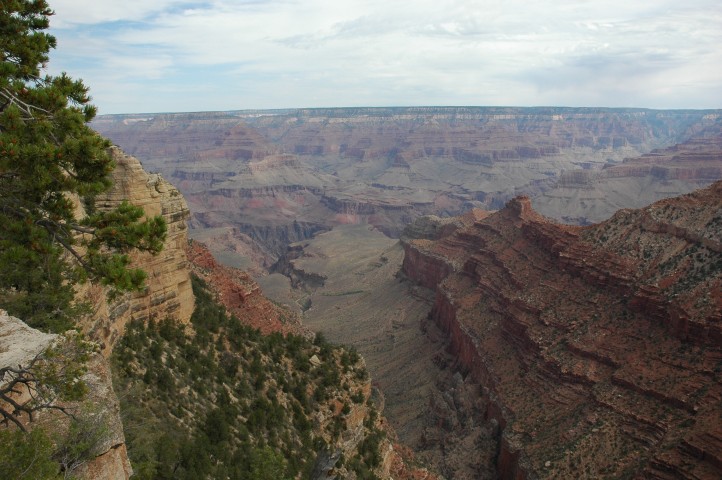 Grand Canyon at daytime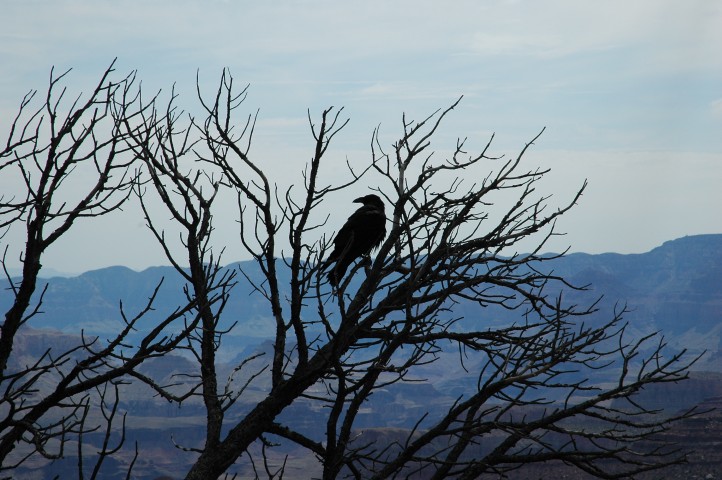 One of the few locals I have seen at Grand Canyon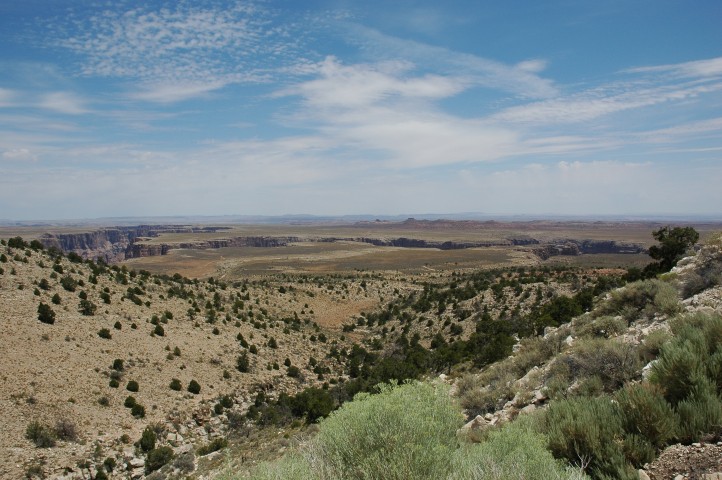 A giant crack in the ground near Grand Canyon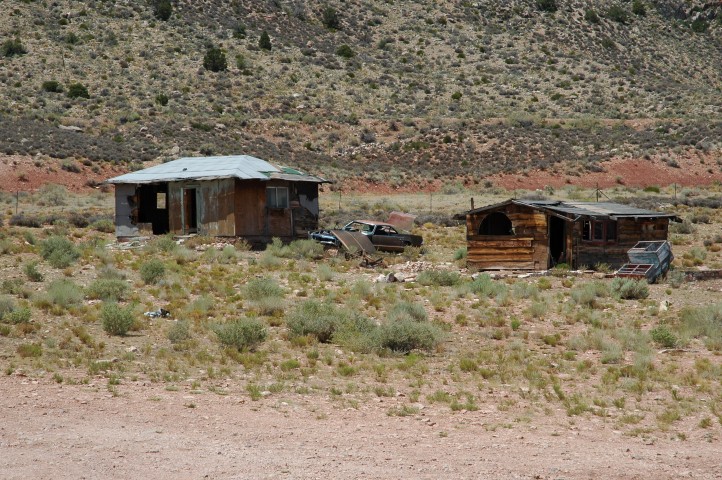 I guess some people have abandoned this house & car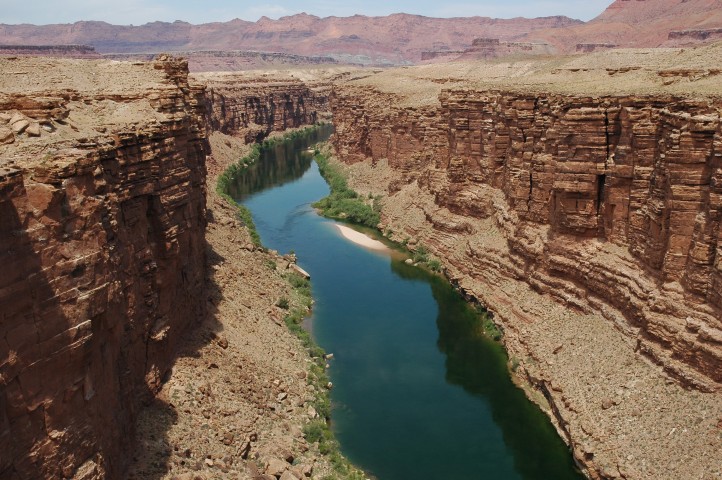 This should be Marble Canyon...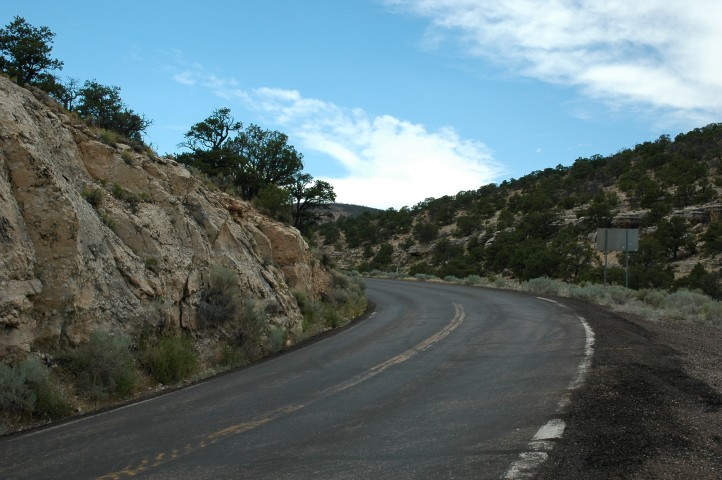 This reminded me a lot of the Provence in the South of France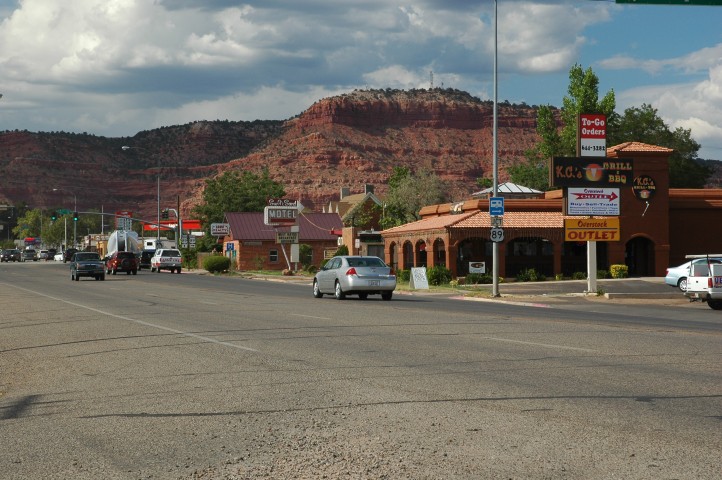 Kanab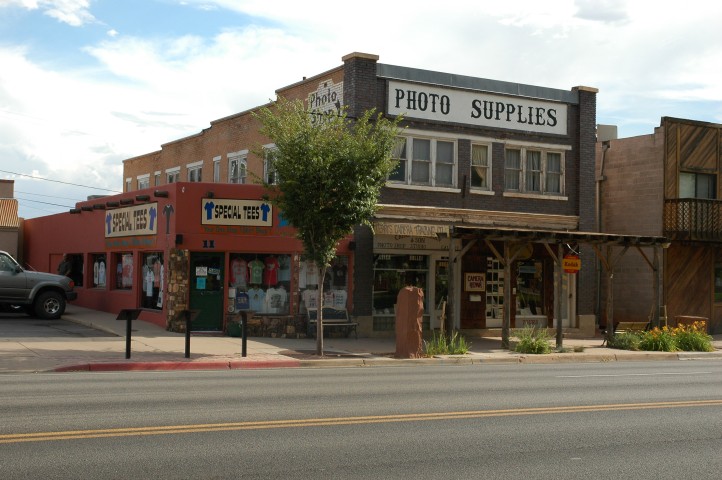 Also Kanab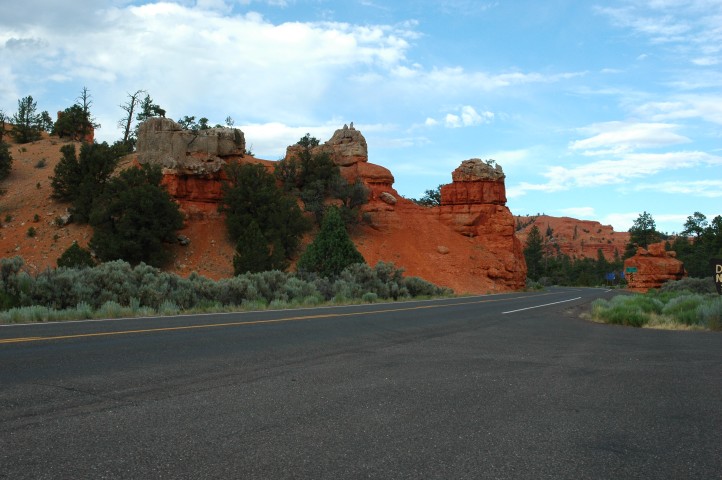 On the way to Bryce Canyon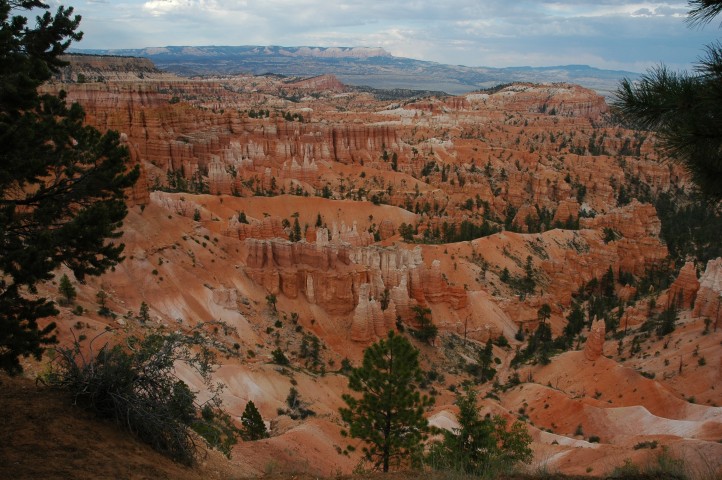 Bryce Canyon!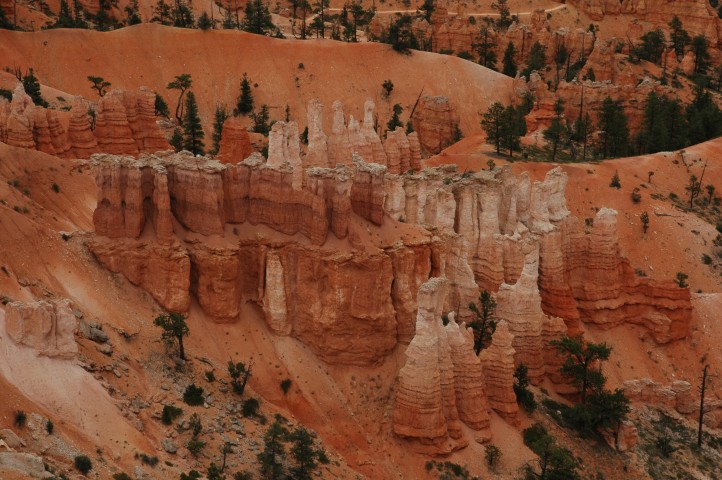 The same a bit closer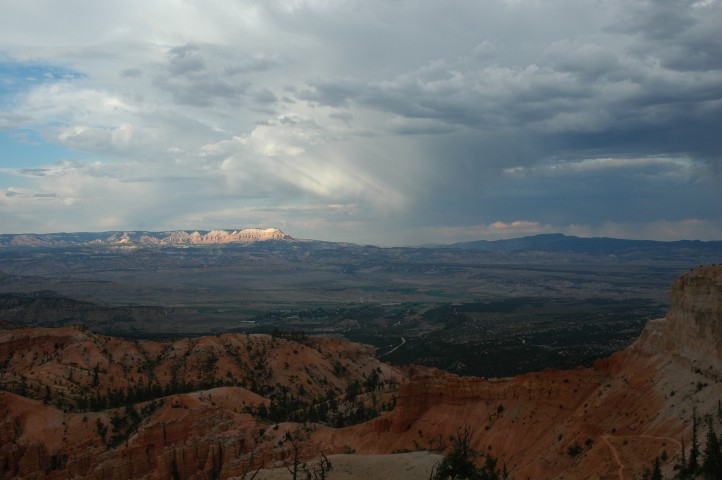 Different "weathers" at the same time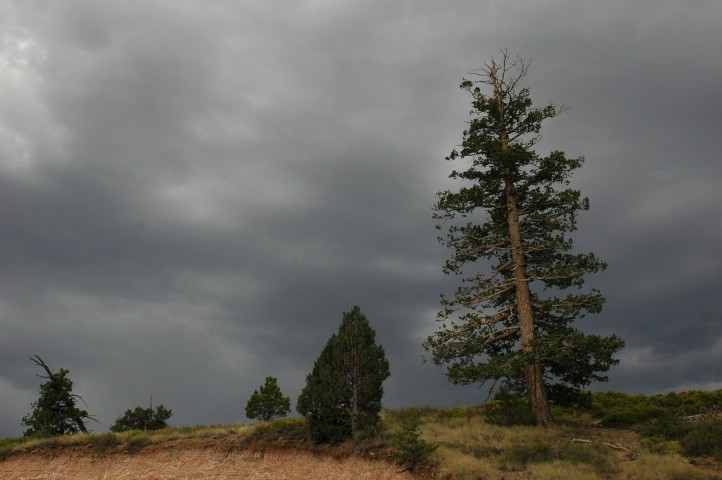 This suggested that we hurry up...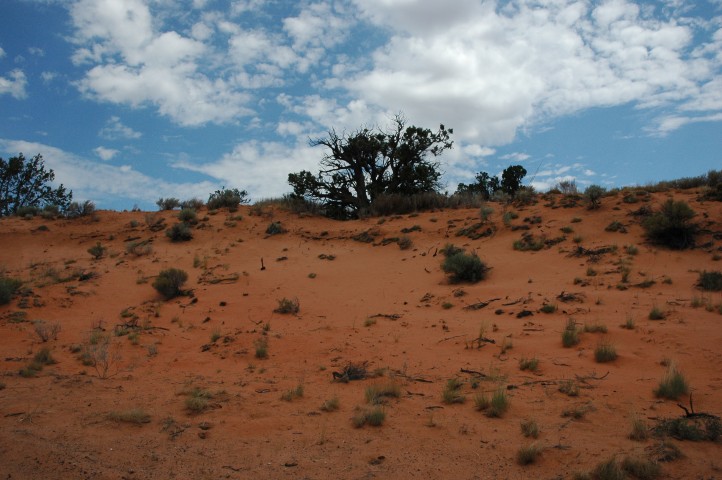 On the way to Zion National Park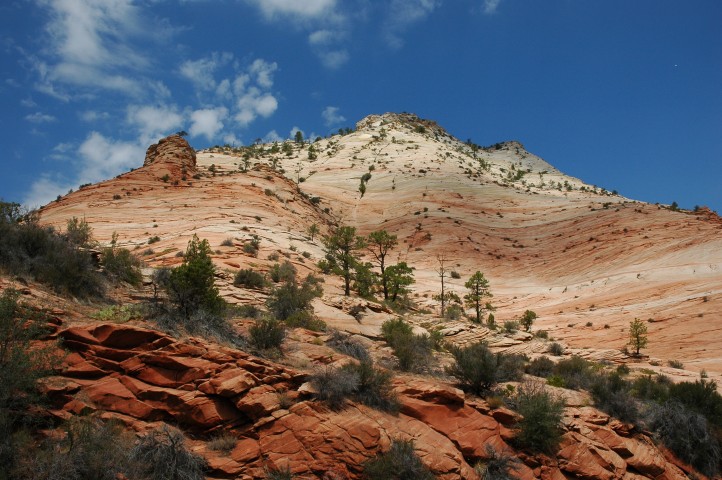 Zion National Park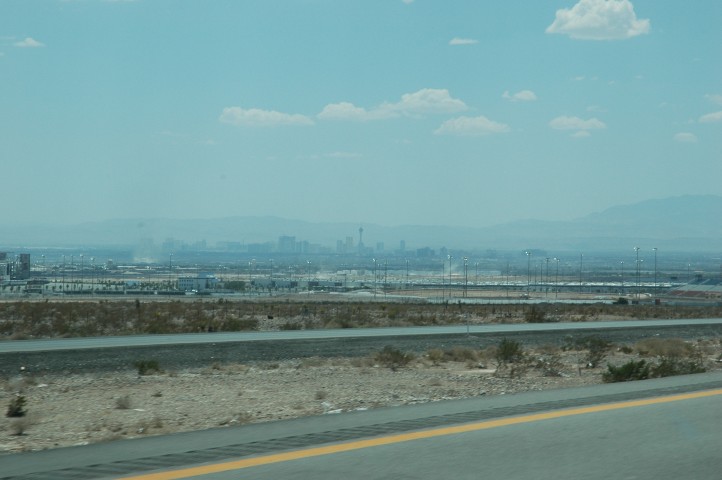 Approaching Las Vegas, not very pleased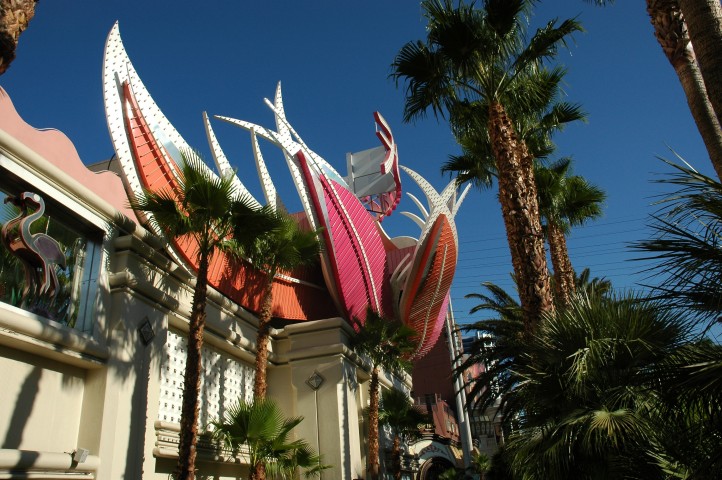 The Flamingo Hotel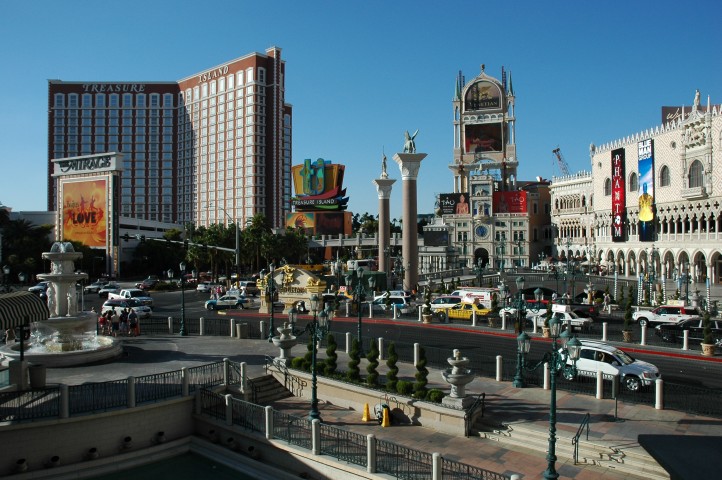 I think that's the north end of The Strip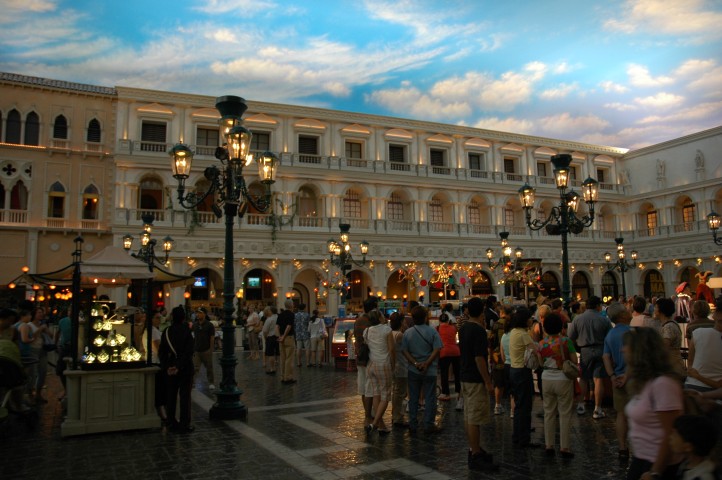 A phony (indoor) square whith a phony sky, phony and plastic as anything else in Las Vegas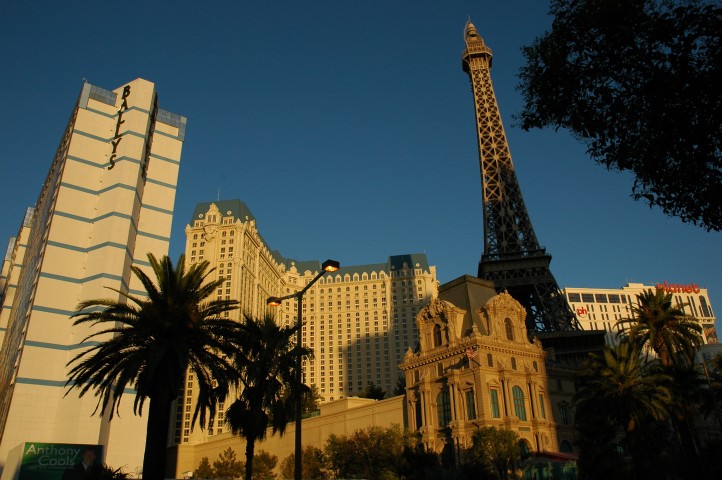 Paris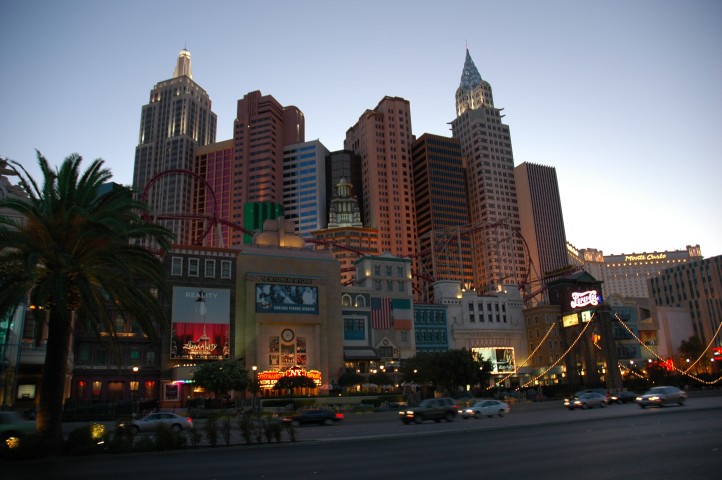 New York New York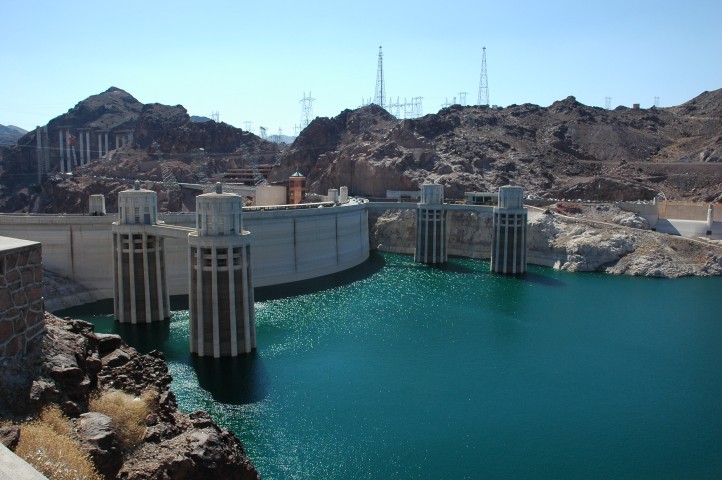 The Hoover Dam...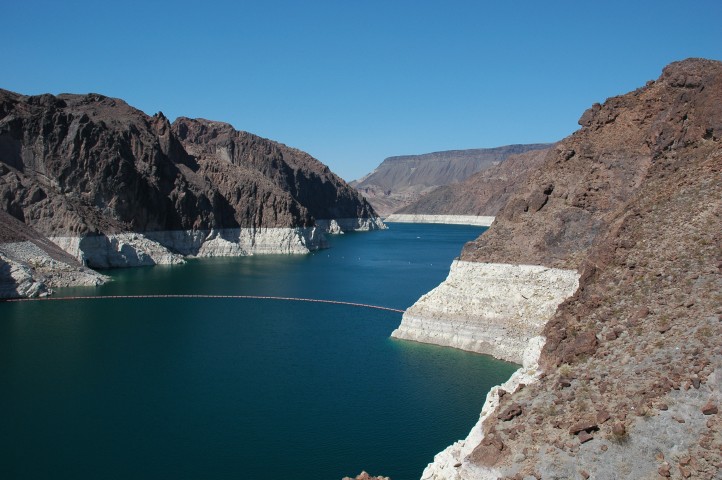 ...usually seems to have more water than this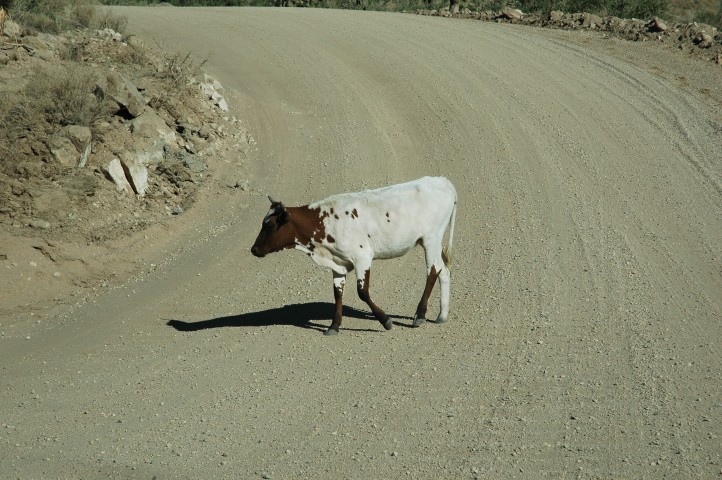 On the way to Grand Canyon West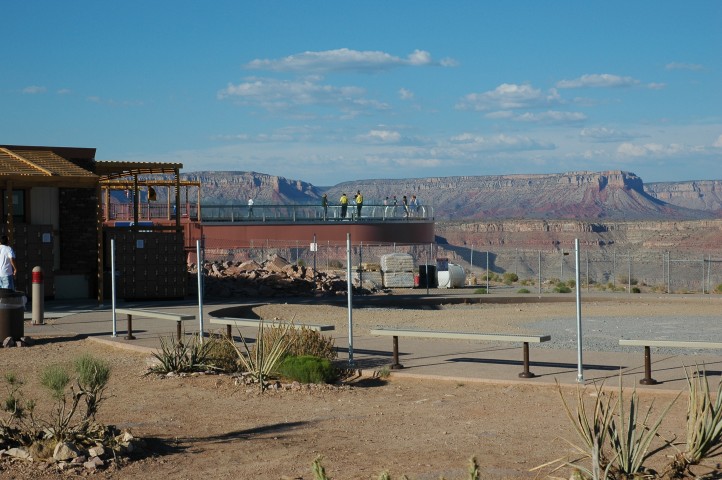 The Skywalk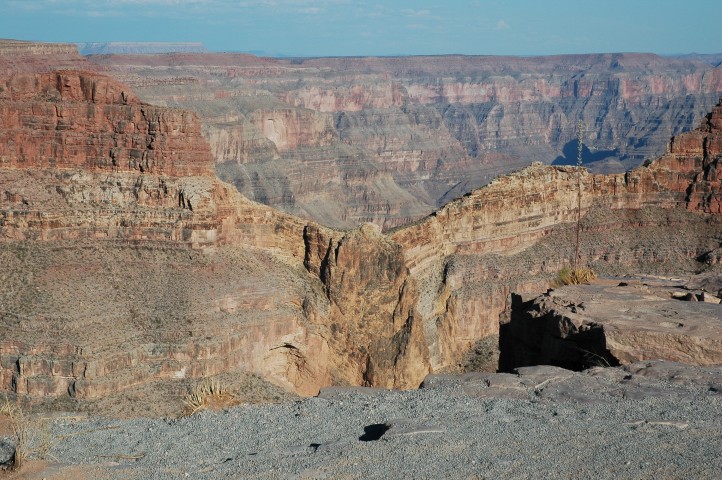 The Holy Mountain, Home of the Eagle. In the middle the eagle, that takes the souls of the dead to heaven. To the left the Sleeping Dog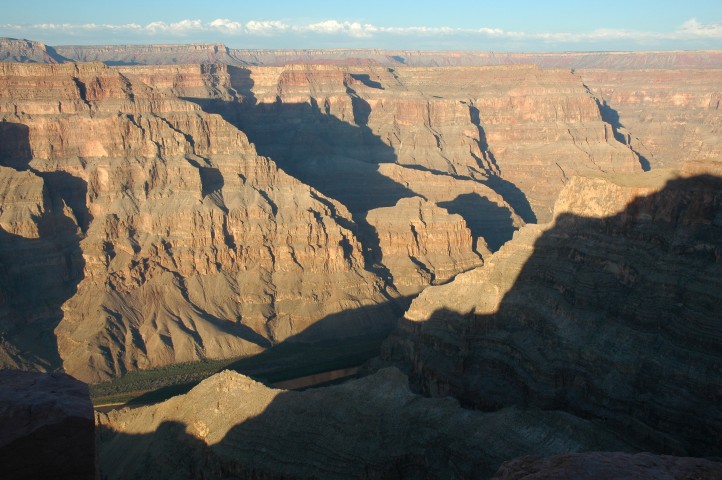 Grand Canyon West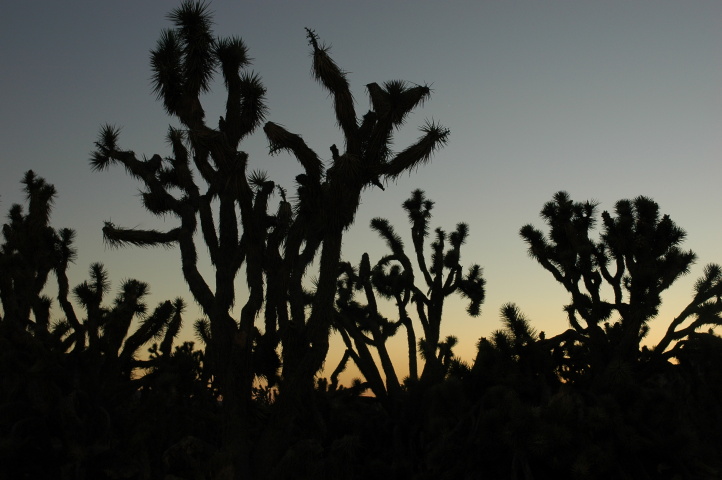 Joshua Tree Forest on the way back from Grand Canyon West
After our visit of the Skywalk, we went back to Las Vegas for our second and last night there. The next day we visited Death Valley, where the temperature was just below 50° Celsius... and from there we drove to Ventura, a small town in the North of Los Angeles. There we met Ölli, who joined us for our trip to San Francisco.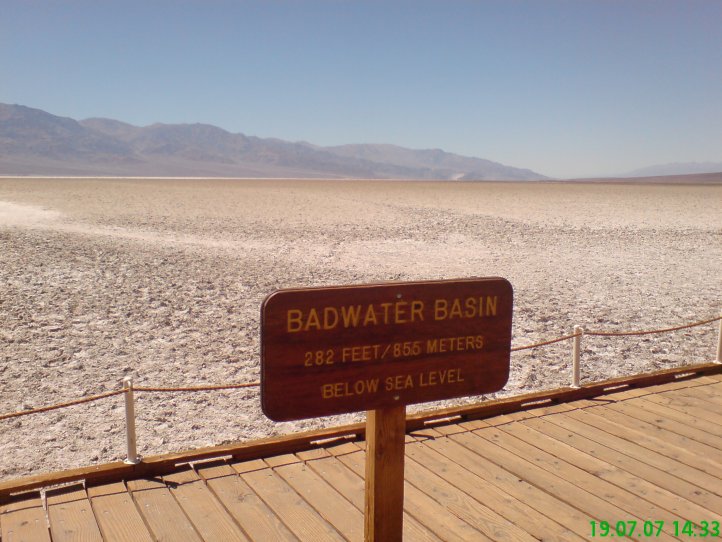 Death Valley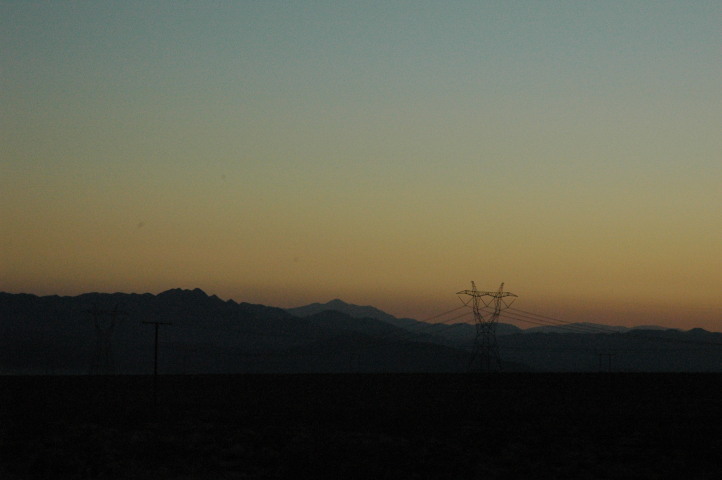 On the way from Las Vegas to Los Angeles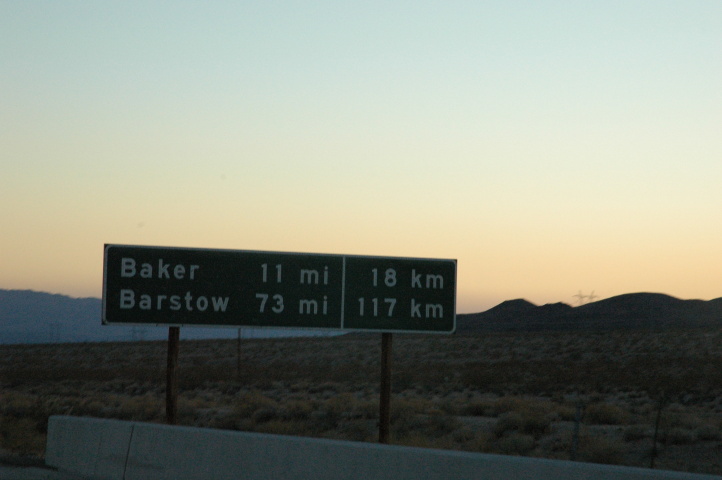 "We were somewhere around Barstow on the edge of the desert when the drugs began to take hold"...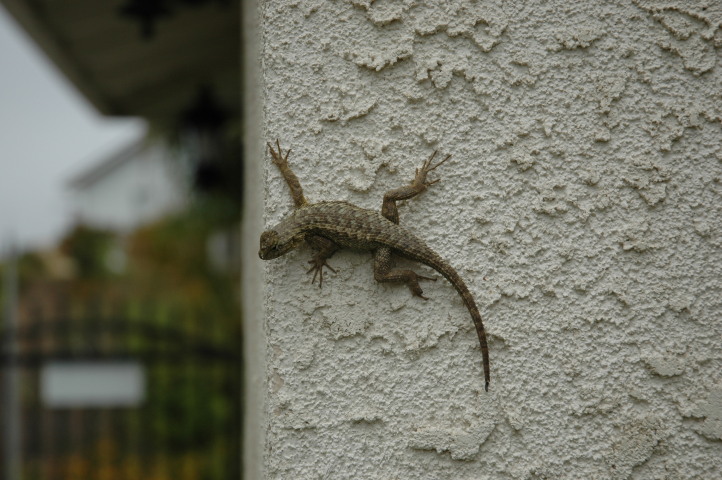 A lizard on the wall of Öllis house in Ventura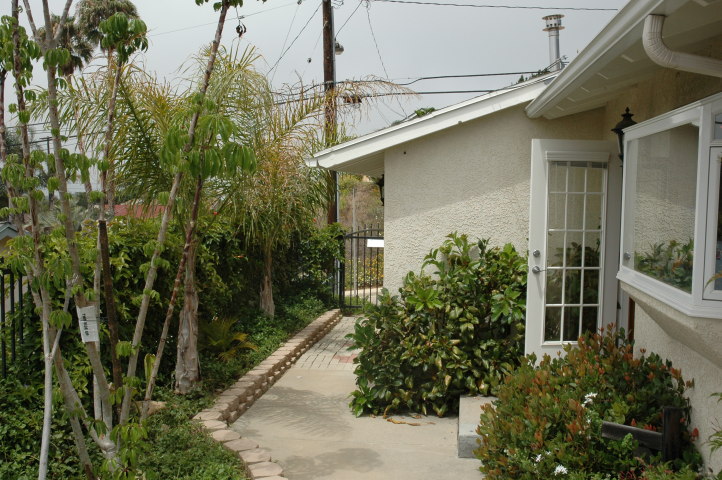 Öllis place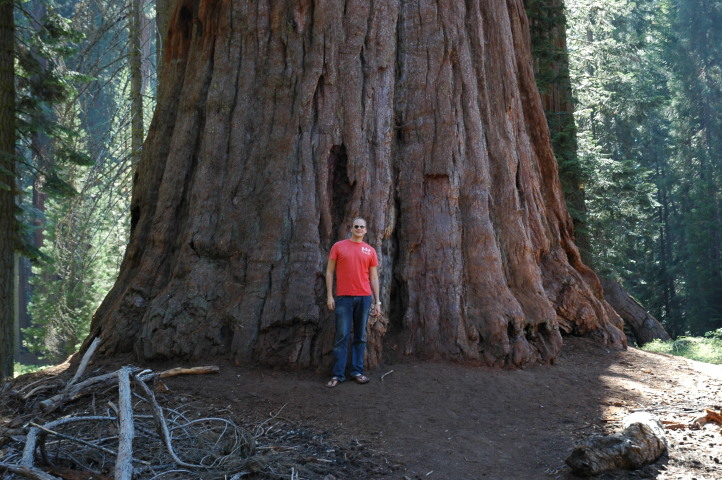 A Sequoia Tree in the park of the same name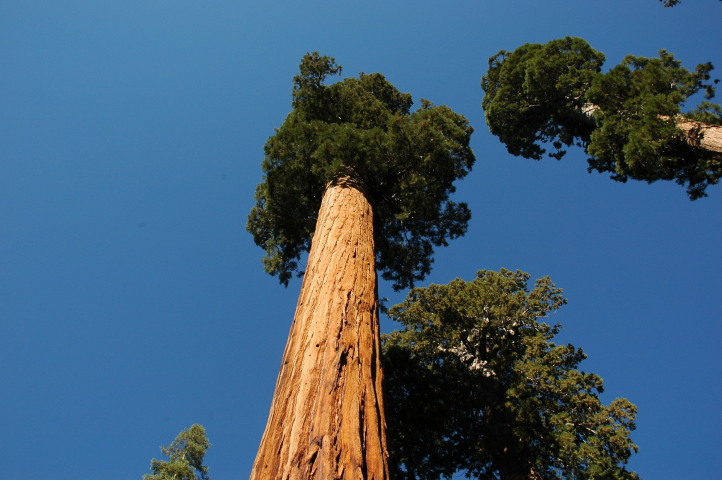 Up to 90 meters tall!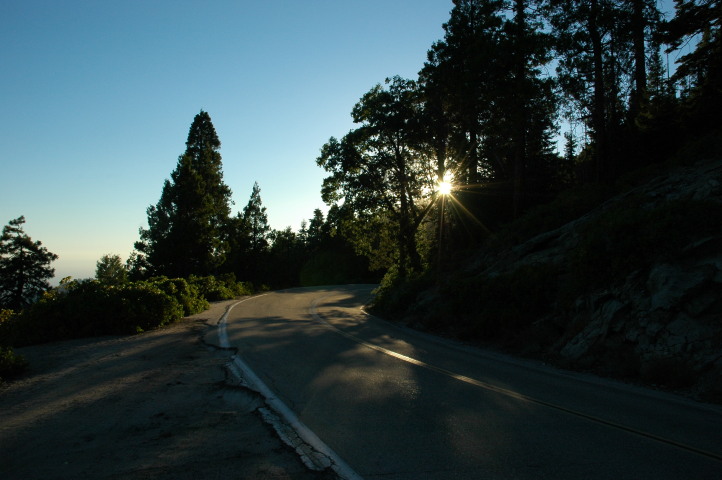 On the way to Yosemite National Park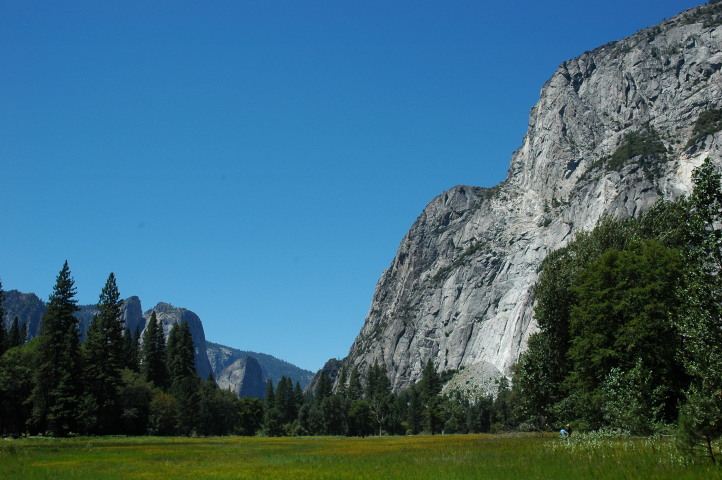 Yosemite National Park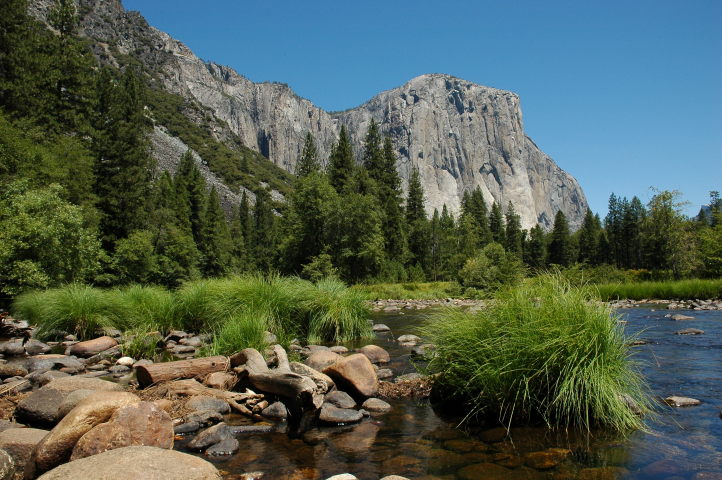 Also Yosemite National Park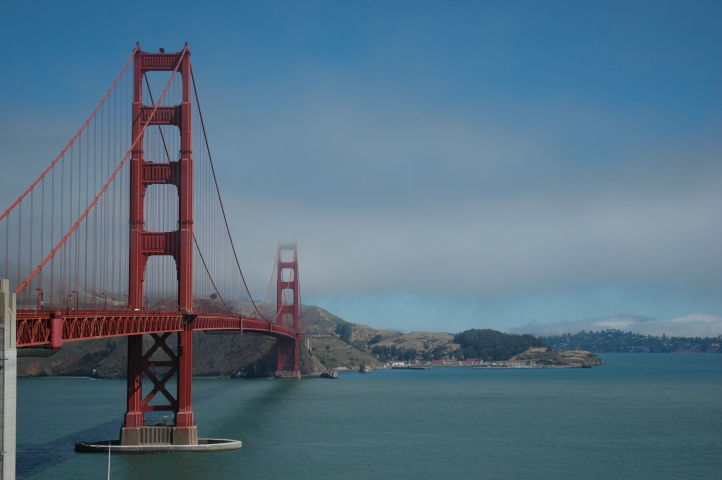 San Francisco!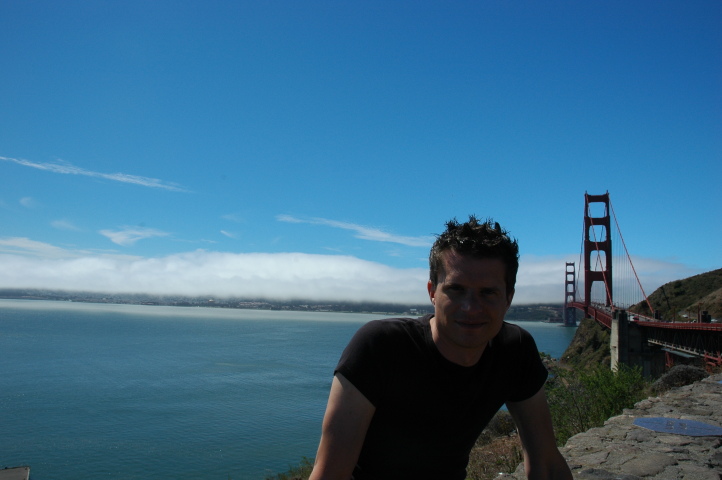 Me in front of the Golden Gate Bridge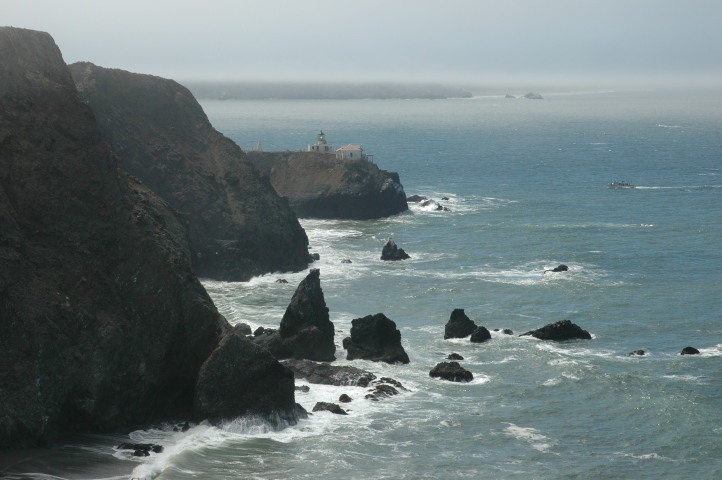 Golden Gate National Recreation Area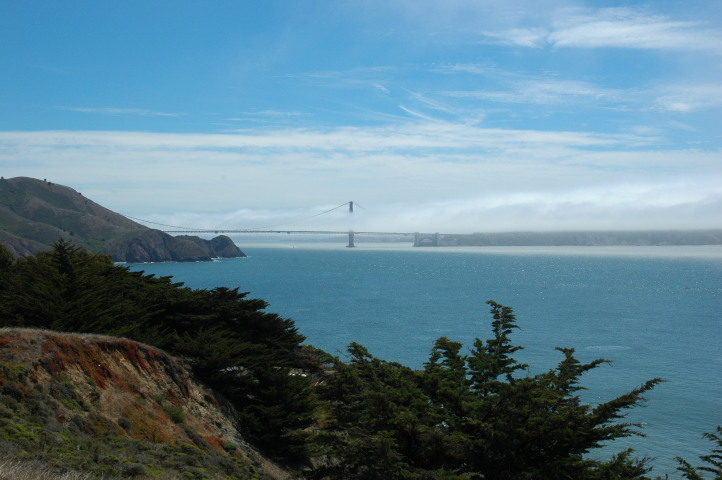 The Bridge, as well as the city, seems to be always under some kind of cloud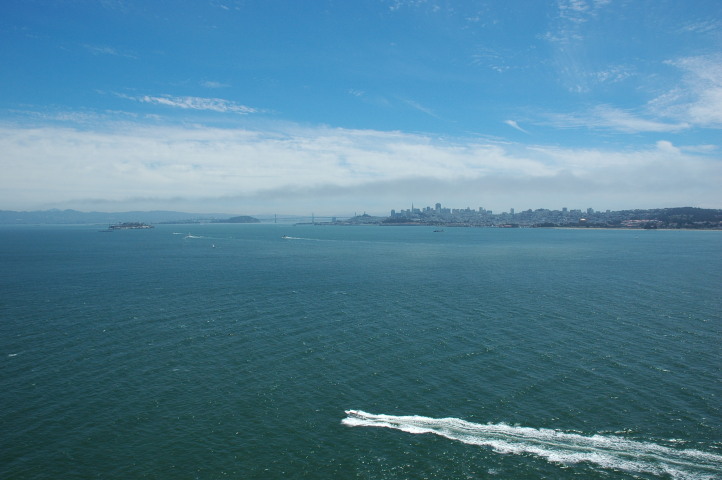 San Francisco Skyline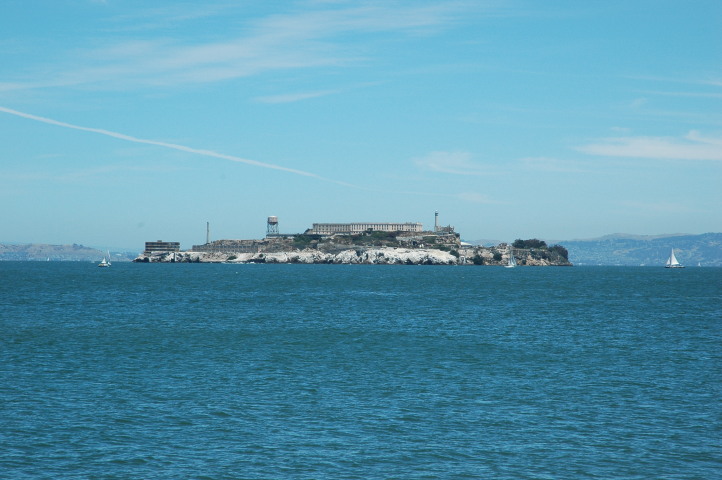 Alcatraz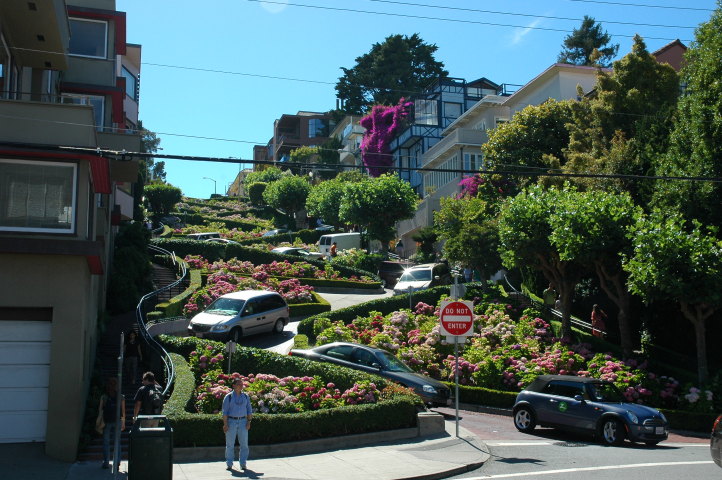 Lombard Street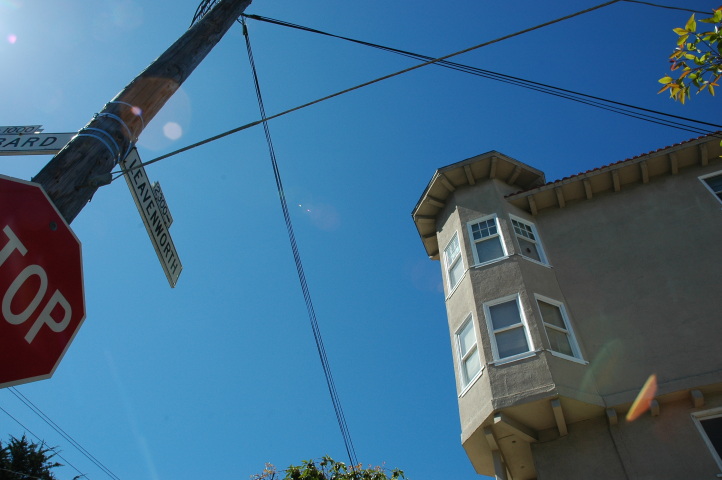 Some street corner in SF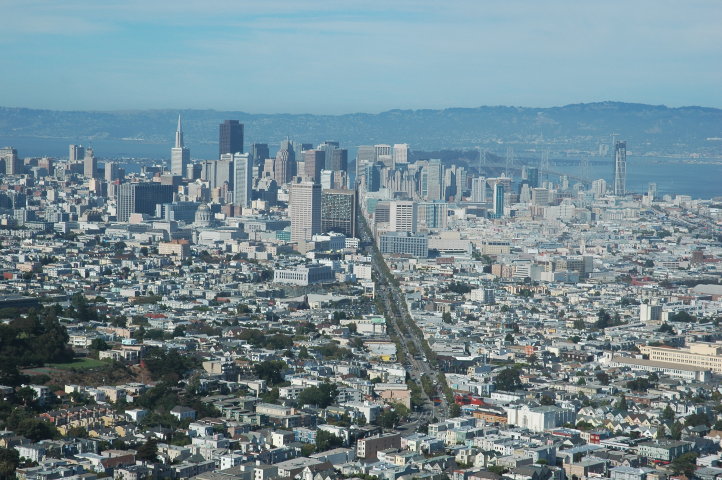 San Francisco seen from the Twin Peaks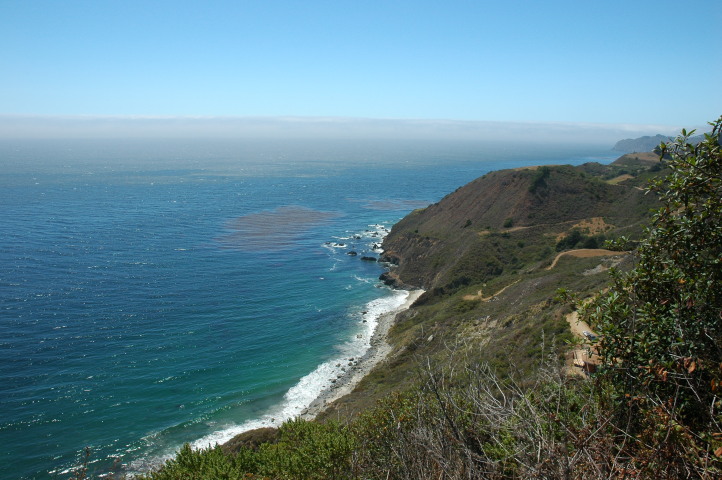 Somewhere along Highway 1 from SF to LA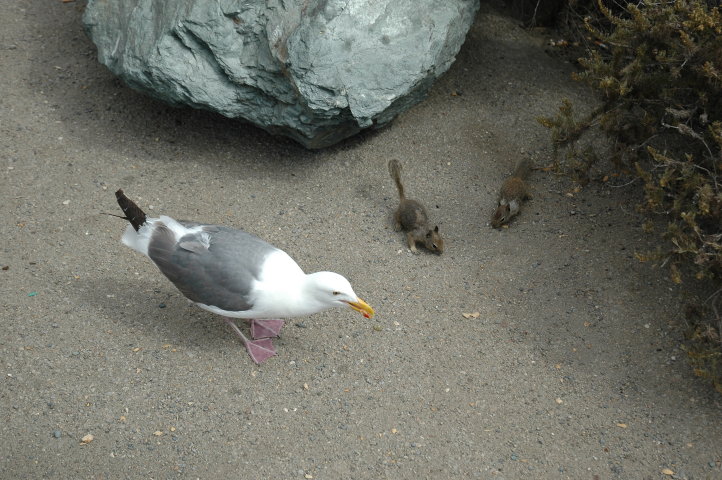 Especially the little guys were well accustomed to feeding tourists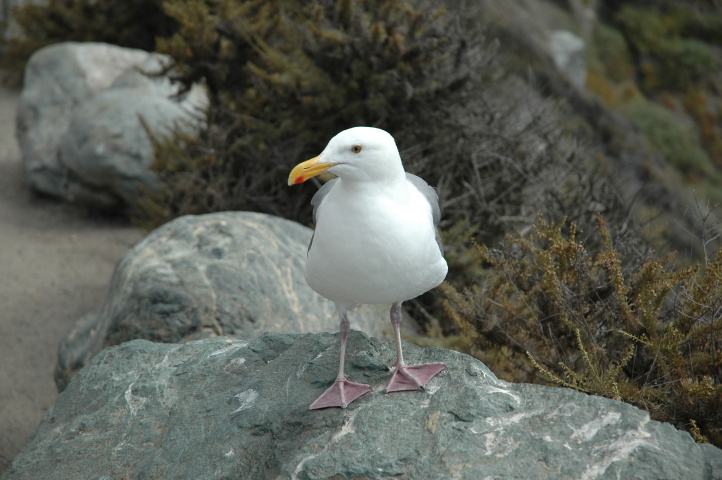 The birds were more sceptical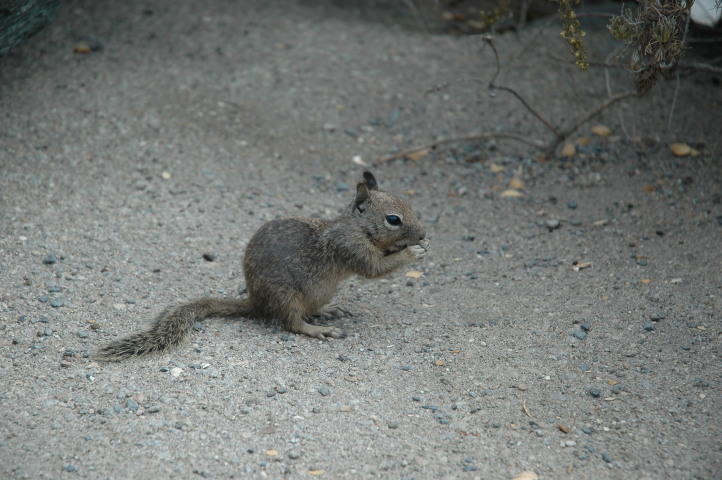 Don't even know what kind of animal that is (a squirrel?), but they were really funny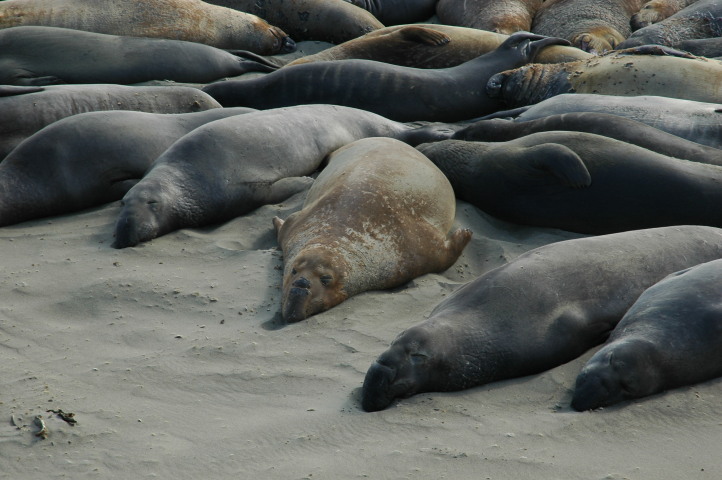 Sea Lions taking a sunbath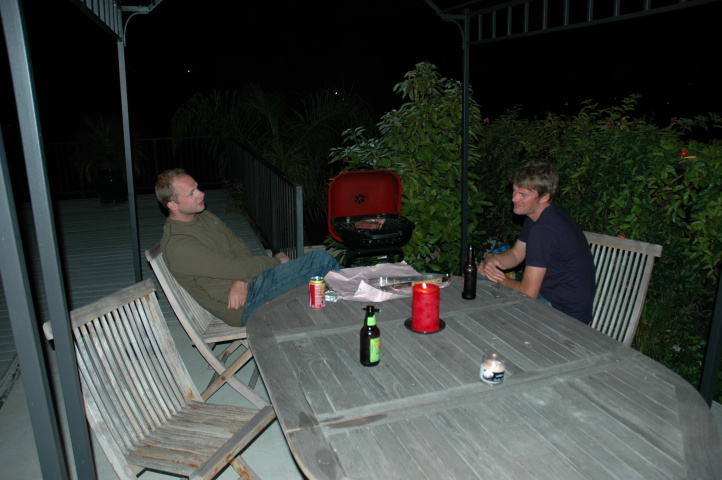 A little barbecue at Öllis place the night before I went back to Munich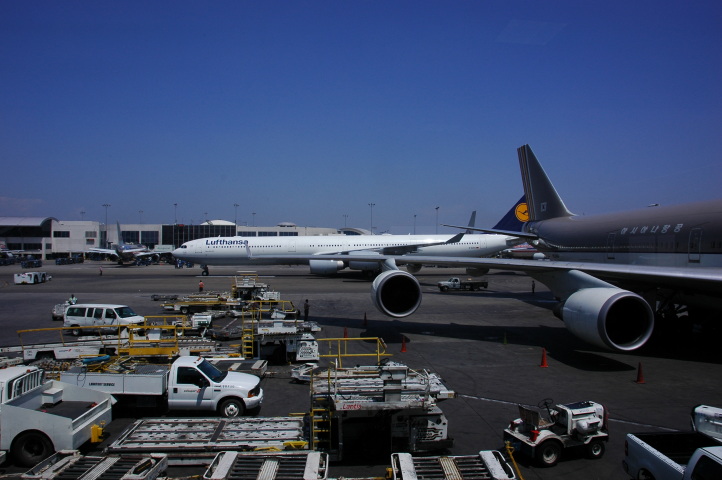 There's my plane coming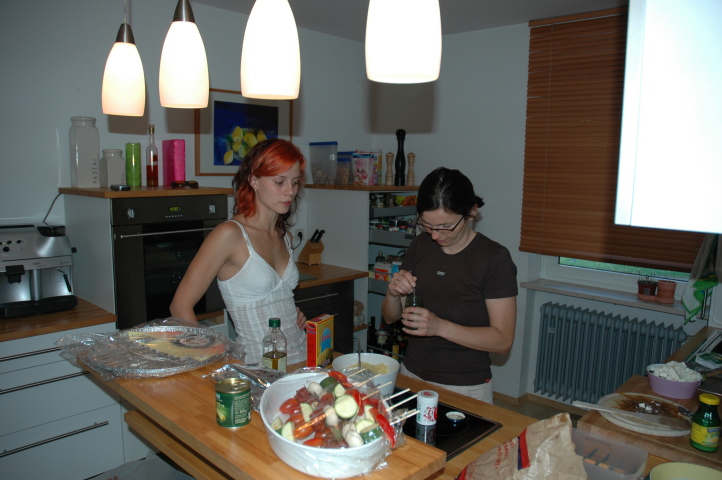 Another barbecue, this time in Munich!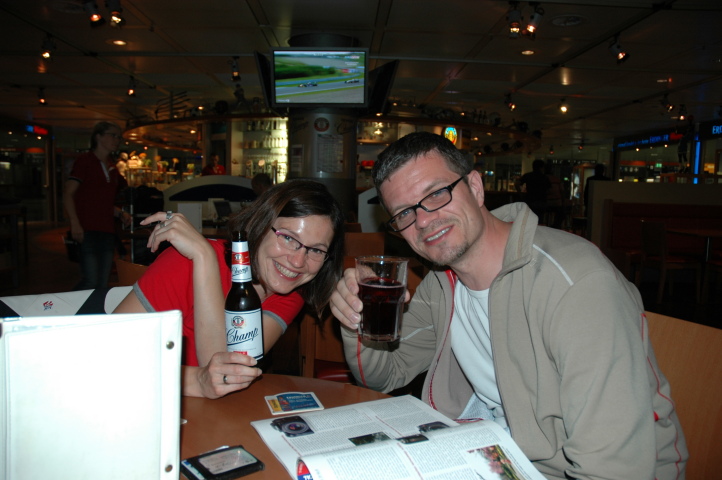 Farewell drink on Munich Airport before I went to Copenhagen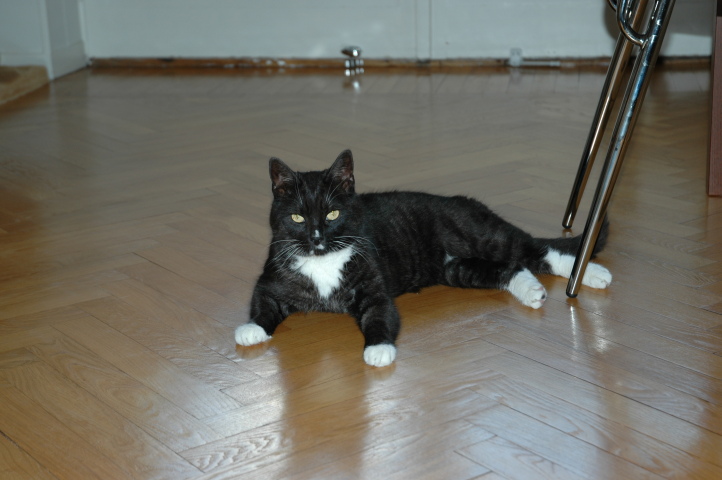 Back in Malmö & reunited with Linus!
Questions? Comments? dode@luniks.net